My Unusual Trip to Paris & London 2001
Now that I've gotten older, there is nothing more fun than traveling. I can travel alone, with friends, with family or go with an organization. It's completely up to me and what strikes my fancy. I don't even let the fact that I walk with this cute little green, three wheeled walker curtail me from seeking new places to visit. The handicap simply means I have to be a little more inventive than other people.
Let me tell you about a trip I took in 2001 to Paris and London. This was definitely a strange trip. You see it was my third trip to Paris and London so I thought I was an old hand and knew what I was doing.
Boy was I fooled! I had found the tickets on the internet that were a combination of a round trip flight and a six night stay in a hotel. I checked the address of the hotel and it wasn't too far from Moumartre. I thought that was great because Moumartre is my favorite area of Paris, however, I didn't think about the fact that Moumartre is not far from the Moulin Rouge & red light district! I also ignored the fact that I couldn't find the hotel on the internet.
The first problem occurred at the airport in Paris. I was to meet my brother David & his son Dusty there. But we hadn't taken the fact that I was landing at Terminal 1 and they were landing at Terminal 2 into consideration. The Terminals were 5 miles apart. Luckily I found a nice man that helped me get my luggage and found a shuttle for me to get over to Terminal 2, which was a big help because my suitcase weighed a ton.
When I found David he was a little irritated because they had been there for 2 hours and had no idea what flight I was on or how to find me. I had flown out of Texas and they had flown out of Alabama. We joked around about it and he calmed down.
We got a taxi to take us to the hotel, thank God David paid for it. Our next shock came when we arrived at our hotel 'The Royal Naverin' (a real misnomer). Kate, David's friend, was waiting for us in the lobby of the hotel. Her plane had arrived 4 hours earlier than ours. The hotel personnel wouldn't let her into our rooms because her name wasn't on the reservation. I think this was a blessing because if she had seen the rooms she probably would have headed back to the airport! They were so tiny we could just barely get our suitcases in them. I had to close up my walker and leave it at the door, using the walls and furniture for support.
We discussed checking out and finding a better hotel but we decided we wouldn't be spending that much time at the hotel, so why go to all of the trouble.
During our stay in Paris I got to take them around town and show them some of my favorite spots. Two of those places were Moumartre and the Orsay Museum. They thought Moumartre was really neat; it's such a wonderful place to soak up the atmosphere of the French art world. It has a fascinating artistic attitude and atmosphere. We all bought some pieces of art. David bought a beret and walked around acting like a French man from the movies for a while. He was quite entertaining, at least to us. I had some wonderful pictures of us there, but now I can't find them.
Our next day was one of my favorites because we got to visit the Musee d'Orsay. Dusty and I got up pretty early and ate breakfast then waited around for David & Kate. After a while we got impatient and called them; they told us to go ahead and they'd meet us there. Dusty & I took a taxi (which is a real adventure in Paris) and when we arrived it was pouring down rain. The line to get into the museum was three blocks long! What we hadn't realized was the fact that the Louvre is closed on Monday so most of the tourists turn up at the Orsay. We really lucked out because when we got to the end of the line there was this really sweet lady from Ireland that had a huge umbrella and she offered to share it with us.
Later Dusty had to use the restroom so he went up to the door of the museum to see if he could go in and use one. When he was leaving the building he informed the person at the door about my handicap. Dusty was told to go get me and they'd let us come on in. We had the Irish lady join us, to pay her back for being so nice. The Orsay is actually an old train station that was converted into a museum so the building itself isn't pretty like the Louvre. But it is very easy to get around and it exhibits the most outstanding collection of Impressionist art in the world.
David and Kate finally showed up at the museum, they had stood in line for 1 ½ hours. It taught them to always stick with the cripple!
Another day we spent a lot of time at the Lafayette Gallery, which is a huge shopping center. It's a beautiful place but nothing like the malls in the US. The different shops are not separated by walls; there are simply clear spaces between the different shops. We separated to go our own way and said we'd meet at the door where we entered in 3 hours. I walked around looking at all of the clothes & jewelry. I bought myself some perfume and then to make up for not thinking about how cold it might be in Paris, I bought a coat and a pair of shoes that weren't sandals.
I waited by the door for an hour and when they didn't show up I went outside & walked around. I was going to buy myself a crepe and a soda but when I checked my money I only had 20 francs, which is less than $3! Needless to say, the street venders didn't take credit cards so I walked around trying to find a place where I could use my credit card to get some cash. I ended up at the Opera House where I found a person that spoke English and knew about the Societe Generale where I could get some cash.
I got $200 worth of francs and caught a taxi back to the hotel. David, Kate & Dusty arrived shortly after I got there (David was angry because they'd spent a long time looking for me). We decided to go to the Pompidou Center for the rest of the day. Paris has some of the most beautiful buildings in the world. The Pompidou Center isn't one of them. It looks like a building still under construction. The metal frame work is on the outside and it's really ugly! It contains the world's largest collection of modern art; including clothes from the 60′s and some of the weirdest phones I've ever seen. None of us were in the right mood to enjoy the place so we headed back to the hotel & found a really cute, quaint restaurant for dinner.
The next day was one of the most exciting. We took the RER (subway) to the area of Notre Dame and de la Cite. Getting me down the steps was a real adventure. Then when we got to the church we found out a funeral was being held so we couldn't go inside. It is really a wonderful building even from the outside, so we walked around the outside imagining the Hunchback (Quasimodo) & Esmeralda's activities around the church. David & I spent some time describing the inside of Notre Dame to Kate & Dusty, adding our own exaggerations, which seemed to entertain them. An active imagination is such a gift when you're traveling.
We left the island & took the RER to what we thought was going to be near the Hotel des Invalides (a hospital dating back to 1670) and Napoleon's tomb. Of course we ended up getting off at the wrong place which was quite a ways from the entrance. I had been there before and didn't feel like walking that far so I gave them my video camera and found a lovely place under some trees to sit. I got to visit with this really interesting lady that was sitting there. It was very enjoyable, she told me some fascinating things about the city and I got to enjoy the beauty of the area. She also told me the Rodin museum was just a short distance from where we were sitting. I walked over there and got to see some of Rodin's fabulous sculptures. The most fantastic thing about this was the fact that I knew that one of my inspirations, Isadora Duncan, used to live in the house where the museum is. It always touches me to walk around an area where I know a person I admire has lived, it's like I can see what they were doing and experience what they were feeling. Isadora Duncan was so audacious & flamboyant; I don't think anyone ever wondered about her feelings or opinions.
When I got back to meet David & them we took off for the Moulin Rouge. Kate had heard a lot about this area and it really is entertaining at least once. I'd already seen the show the first time I came to Paris so I decided to walk back to the hotel after we walked around the area for a while. Some of things that can be seen in the windows around the Moulin Rouge just flabbergast me! But it is very interesting, just so you can say you've seen prostitutes in store windows hawking their wares.
I am very well known for being directionally challenged (I could probably get lost in my own house), but of course I didn't take that into consideration when I decided to walk back to the hotel. I took off getting quite lost in my own thoughts about the many artists and admirable people that have walked around the same area. Before I knew it, I was physically lost as well. It was getting close to evening hours and I knew I didn't want to be in this area alone after dark, so I started asking everyone I could find for directions. But no one spoke English. My fear was turning to panic when I found this wonderful couple from Ireland.
They couldn't figure out the directions I had written either but they were able to flag me down a taxi. I will never forget how sweet they were, or the fact that my 30 minute to an hour walk took me 5 hours!
We decided to be lazy the next day. We took Dusty to the Eiffel tower & Tracadero then spent some time back in Moumartre. The day was very relaxed and enjoyable.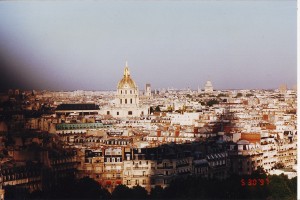 This is a view from the Eiffel Tower.
This is the Eiffel Tower at night.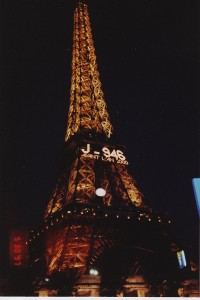 If you ever get a chance to visit Paris, be sure and visit Fontainebleau and Barbizon. That's what we did on our 6th day. Barbizon is this wonderful artist's village, but you'd have to be a pretty rich artist to live there. You wouldn't believe some of the beautiful mansions that are there. I also got to see Robert Lewis Stevenson's home. It was fascinating to see the rooms where he worked and imagine him sitting there working on 'Treasure Island' or 'Kidnapped'.
Speaking of expensive houses, you've got to see Fontainebleau. It is a magnificent, huge structure that royalty has inhabited since the 15th century. Catherine de Medici, Marie Antoinette and Napoleon all lived there at one time or another. I would hate to guess at the cost of all of the gold leafing in that building but it was beautiful.
On the seventh day my real adventure began. I left David, Dusty and Kate in Paris and took the train to London all on my own. This was quite exciting. I usually take a ferry across the English Channel and then catch a bus to the city. But this way you catch the train in Paris and get off in London, it's a little more expensive but I think it's worth it just to miss all of the hassles of standing in lines, loading and unloading your luggage. You're only underwater in the Chunnel about twenty minutes, which was a neat experience.
I arrived in London a little after noon and caught a taxi to the Comfort Inn on Hyde Park. This was a pleasant surprise after the fiasco of a hotel in Paris. It was in a lovely part of London, near so many wonderful sights. There was tube station and a bus stop a little over a block away and the rooms were really nice and big! The only problem was that there were stairs going into the building, but the taxi driver helped me the first time and after that there was always someone around that would carry my walker up or down the stairs. This experience taught me a very good lesson. You see, when I had called to make the reservations I had asked if they had an elevator and they said yes. I didn't ask about steps going into the building!
I am so glad that I was able to experience London on my own. I didn't have to rush through places, merely glancing at things as I'm hurried along. I got to visit each site at my own pace. I like to experience the history, psychology and atmosphere of a place. I believe that dramatic historical events leave a psychic impression on communities and buildings.
The first day I mainly got settled into the hotel and planned what I was going to do the rest of the week. I walked around the area and bought a 24 hour bus tour ticket. The second day I used the bus pass to scope out different areas. While walking around Trafalgar square a woman asked me if I'd take a picture of her & her husband. I said sure & while I was doing that I got dropped on by a pigeon. I took that very personally; I mean I was just trying to be nice.
My real adventure began on my third day in London. It was really cold out so I decided to take 'The Romantic England Tour'. It was a tour of Oxford and Stratford-upon-Avon. Oxford is really a world all its own. There are thirty seven separate colleges in Oxford University. It is the oldest English speaking university in the world, there has been an educational institution in Oxford since 1096 and many of the present day buildings date back that far. Lewis Carroll, the author of 'Alice in Wonderland'; C. S. Lewis, author of 'The Chronicles of Narnia' and J. R. R. Tolkien author of 'The Lord of the Rings' all went to Oxford at the same time. They would meet at a pub called 'The Eagle and Child' I ate lunch there & had a wonderful time imagining the three of them sitting at a table and fantasizing about alternate realities and worlds.
Our next stop was Stratford-Upon-Avon, Shakespeare's home. I didn't realize until this trip that Shakespeare's wife Anne Hathaway was eight years older than him. They separated after Shakespeare got older and our guide said there isn't any documentation about him having lovers but she felt the fact of their age difference and their separation gave a little credence to the movie 'Shakespeare in Love'. It's a lovely thought anyway. The town itself was awe inspiring because so much is still like it was in the 1500′s. There are also little groups discussing Shakespeare's life and works going on in every gathering place.
On the drive back to London we drove through the Cotswold's which was beautiful. You wouldn't believe the rolling hills with flowers and trees. There are also structures dating back to the Roman occupation and some wonderful castles and buildings.
March 27th was another great day. I took a tour called 'The Living History Tour'. Of course as a former history teacher this fascinated me. We first went to Leeds Castle in Kent, which is described as the 'loveliest castle in the world'. It's in the middle of a lake! It really is pretty but I've taken so many walks through castles that I decided to spend most of my time at Fairfax Hall and courtyard across from the castle. It was really interesting and entertaining. There were people dressed like they must have been 5 and 6 hundred years ago performing little plays and carrying on jobs like they would have centuries ago.
We got to visit Rochester upon Medway. The Romans build a settlement on the Medway in AD 43, a thousand years later the Normans arrived and built a castle and a cathedral. Rochester was immortalized in the works of Charles Dickens and the atmosphere is still so rich in history it's absolutely fascinating. I was able to let my imagination run free and visualize what it was like when the Romans and Normans were there and during the time of Dickens.
From Rochester we traveled to Canterbury. You wouldn't believe the Canterbury Cathedral; it is so grand and beautiful. It overwhelms you to walk around inside and imagine Thomas Becket, the Archbishop of Canterbury, being killed there. There is also a wonderful Chaucer museum in Canterbury where there are little role-plays being put on based on Chaucer's stories. It is awe inspiring to walk around this area and just soak up the history, energy and thoughts of the people that have lived and died in this wonderful city.
It was pretty late by the time we got back to London, so I grabbed a quick dinner and went back to the hotel.
The next day I went to the Victoria and Albert Museum. This really sweet lady that worked there got me a wheelchair and pushed me around for a couple of hours. She gave me her personal commentary about the items on two different floors. Her knowledge and enthusiasm about the ancient Korean, Japanese and Chinese art was contagious. She really made my day. After lunch I went back to the museum and walked around on my own but it wasn't as much fun without my own personal guide.
The 29th I took a taxi to Sommerset House, if you ever go to London be sure and visit this beautiful place. I hate to call it a house because it was spread out over an area the size of an American block. It was huge with an open area in the middle containing diverse gardens and dancing fountains. I spent most of my time in the section called the Courtland Gallery; it had a fantastic collection of Renaissance and Impressionist art.
I also got to check out the Sherlock Holmes Museum at 221 B Baker Street. It is a cornucopia of scenes and characters from the many books about the Sherlock Holmes escapades. From the Sherlock Holmes Museum I took a bus to Bloomsbury. This is one of my favorite sections of London. I walked by Virginia Woolf's home on Fitzroy Square where she would often stand looking out the window while she worked on her books.
After a lot of walking around, I finally found the Charles Dickens Museum. It's in the Dickens' Bloomsbury home. The house has five floors but each of the floors is rather small in area. I just walked up the stairs, holding on to the rail, and saw what I could from the stairs. The most exciting part of this excursion was when I went to the basement. In the study there was a professor conducting a round table discussion about the works of Charles Dickens. I sat and listened for a while and learned some interesting information about what was going on in London during Dickens' lifetime.
I also found this interesting building that was the Texas Embassy.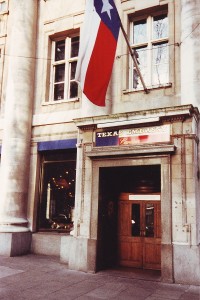 My biggest adventure of the day was trying to get back to the hotel. A tube strike had been called on this date but it really hadn't affected me yet. Well, now it did. A taxi was impossible to find and the busses were packed jammed full. I waited at a bus stop for an hour and couldn't find a bus with space for me. I finally decided to eat dinner in Bloomsbury. I finished eating around 7:30 and found a bus with space for me at 8:00. This bus had a stop that was 7 blocks from my hotel, which wasn't good, but by this time 7 blocks sounded like something I could handle. I only had to walk 2 blocks though, because a taxi finally stopped for me. The poor kid driving the taxi was feeling so harassed I really felt sorry for him. The interesting thing is that the tube strike was only allowed to go on for one day, so people weren't inconvenienced that much.
This is a picture of me with London Bridge behind me.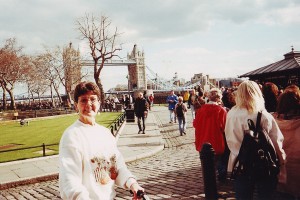 On my last day in London I went to one of my favorite places, Westminster Abby. There was a funeral for a Chancellor going on, which really haunted me. On this trip I went to two churches, Notre Dame and Westminster Abby and there was a funeral going on at both! It amazes me to think about the church being built in 1035. I latter got to go inside and spend some time in Poet's corner.
I then took a taxi to the train station where I had left my luggage earlier. I took the train back to Paris and spent the night. It should have been an uneventful time from there on out, but of course it wasn't.
I caught a shuttle to the airport the next morning. The driver asked me where I was going and I told him to the US on Delta. He said OK and acted like he knew what he was doing. He dropped me off at Terminal 2. You would have thought I'd remember I flew into Terminal 1 after having so many problems two weeks ago, but I didn't. After asking around, I found out I needed to be at Terminal 1. I finally found a lady at a desk that said she'd call another shuttle for me. The shuttle was very slow getting there to pick me up. I arrived at Terminal 1 thirty minutes before my plane was to take off. Of course, they wouldn't let me check in that late. Luckily there was another flight out two hours latter that they put me on. This taught me two very good lessons, always know what terminal you need and don't schedule trips that have you flying home on April's Fool Day!