October 2014
Gayle Boles
This was one of the most meaningful journeys I have been on. The experience began very strangely; five months ago I was talking about the Apostle Paul in the high school Sunday school class I was teaching. I got on the internet to do some research and found this trip, 'The Journeys of Paul'; I clicked on the link and was flabbergasted to see it looked like they were going to a lot of the places I had been talking about in the class! I saw that the tour was sponsored by a church out of Waxahachie Texas, so I contacted them and was told that I would be welcome on the trip.
There were 28 of us on the tour, this included Bruce and Sheila Zimmerman who were the leaders. The really neat thing was that there were four of us on the trip that had some challenges; one lady was fighting cancer, another lady was blind, Eunice Zimmerman (Bruce's mother) was 86 years old and me that uses a relator walker to get around. But none of us were made to feel like we were creating problems for the others.
Our journey started in Istanbul Turkey, which is a fascinating city that is 7,000 years old!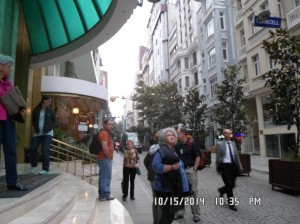 This is a picture of some of our group outside our hotel in Istanbul on October 16th in the morning, the date and time on the picture is for Austin, the camera didn't correct itself like a phone does. That's Kathrine in the foreground, Billy behind her and the short lady furthest away is my roommate Sherrie.
The first place we visited was the Blue Mosque, which was commissioned by Sultan Ahmed in 1616. Its title comes from the glazed blue tiles that adorn the interior. It's a huge place with a beautiful interior, but it's interesting that there were no pews like in a Christian church. The women had to cover our heads before entering.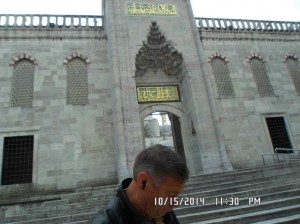 This is a picture of Doug outside the Mosque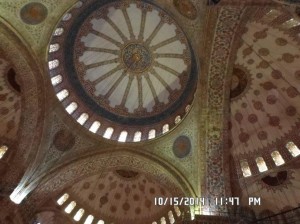 This is inside the Mosque.
The next place we stopped was the Topkapi Palace Museum; it was the primary residence of the Ottoman Sultans for 400 years. It contains important holy relics of the Muslim world, including Muhammad's cloak and sword. They also have a staff which they say is the Staff of Moses and a sword which they say is David's Sword. I don't know how this was verified, but it was fascinating to see along with the unbelievable amount of golden objects and jewels. I bought a $200 book there with pictures of a lot of the sacred treasures. Expensive but I figured I'd never be back to see these things again.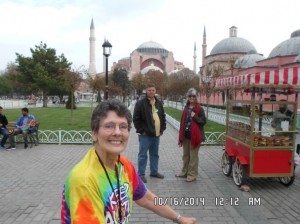 This is me (Gayle), Melissa and Doug outside the Topkapi Palace; I left my coat at the hotel and was freezing!
We then visited the Grand Bazaar which was huge.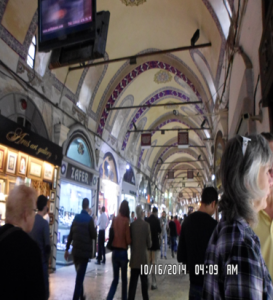 I got a kabob there which was spicy but good. I also saw the cutest pair of shoes with embroidered flowers on them, but thought I'd check for cheaper ones. Eunice told me I'd regret that and I did. I never saw another pair.
After doing lots of walking around the bazaar we went to the Hagia Sophia, it was beautiful.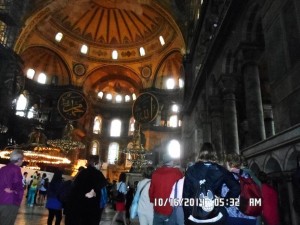 Thank God Melissa and Doug pushed me around in a wheelchair here.
October 17th was a disappointing day for me. We left Istanbul in the morning by bus; I sat in the first row with Orhan, our guide. Bruce and Sheila sat in the front seats across the aisle. The problem was that Orhan stayed on the phone when he wasn't talking to the whole crowd so I had no one to talk to. We visited Troy which was made famous in Homer's Iliad and only discovered in 1865. The terrain was really rough; it's still an ancient site under excavation, so I spent most of my time in the bus. I did get out and get a picture of me and a replica of the Trojan horse, below.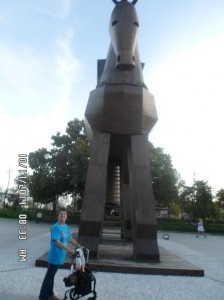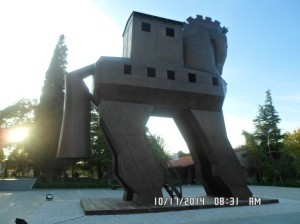 We then drove by Gallipoli and heard the Turkish side of the story; I want to see the movie now. We stayed in Canakkle Turkey that night in a hotel that wasn't very nice (of course my opinion could have been based on my crummy mood).
Saturday the 18th was a much better day, I think because I moved to a row in the middle of the bus and had people to talk to. We went to Pergamum first; here we saw the ruins of a church from the book of Revelations. By the end of this trip we see all seven churches discussed in Revelations. This was the city where the first Christian was put to death.
I did some shopping here in the tent shops they had set up. I bought a cute owl purse, a small rug with a symbol that looks like an eye hanging from it and some bookmarks.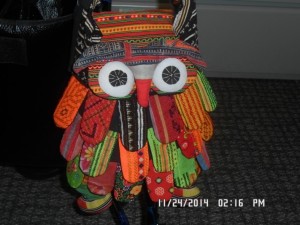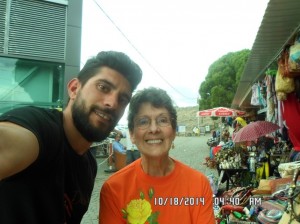 The shop owner took a picture of us.
We drove on and saw the Homonyn Church and went to Thyatira.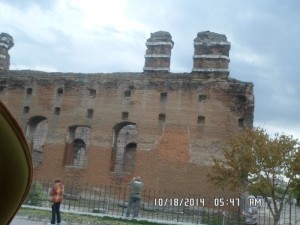 We then drove through a beautiful area with mountains; the picture below doesn't show the beauty very well because it was cloudy.It was a great day.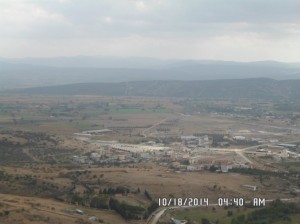 Sunday the 19th we started off going to Izmir (ancient Symerna), it's the third largest city in Turkey. It was established in 1100 BC and has a large Gypsy and Curdish population.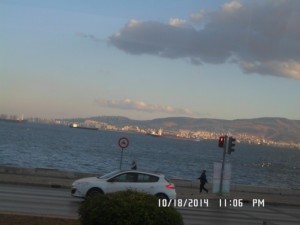 That's Izmir across the water. The city was distroyed in 1920 by a massive fire but was obviously rebuilt.
Our next stop was Sardis which had some great ancient sites. Below is the Temple of Artemis.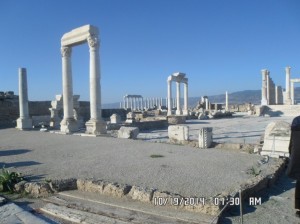 We then went to an area with some shops where I got a meatball lunch and bought a rug to cover the place at my home where Clair spilled some fingernail polish.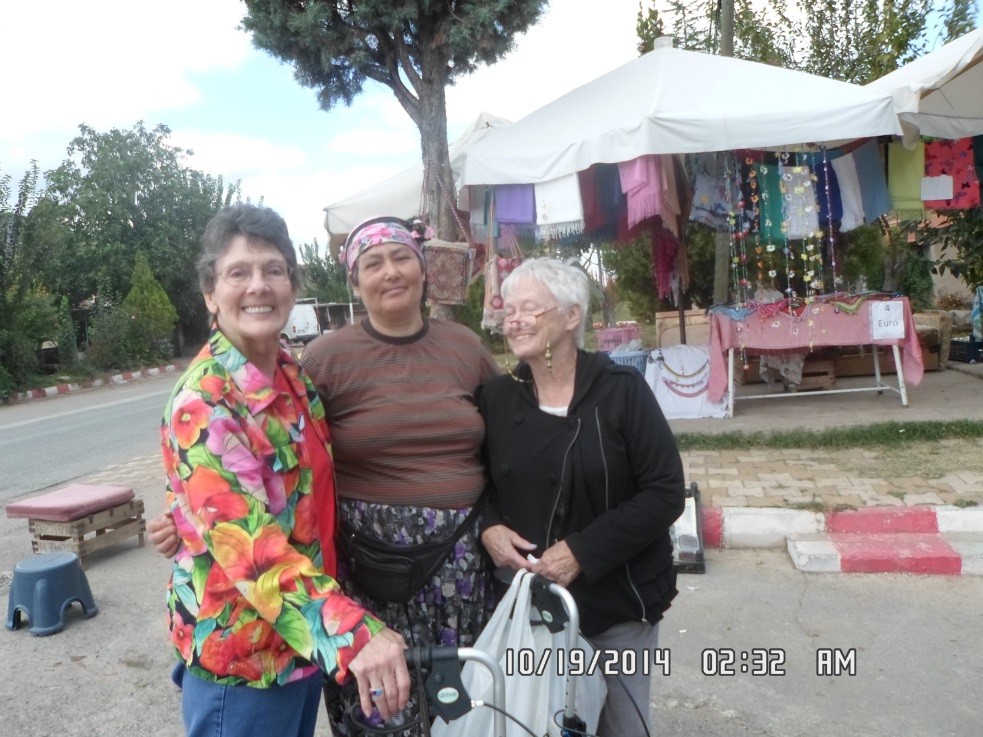 This is me, Mary and the sweet lady that sold me the rug. After the picture the lady brought Mary and I a sliced persimmon and some pomegranate juice.
Our next stop was at the ruins of Philadelphia which was established in 600 AD. I got a pretty good walk in here. Getting back to the bus Doug and Maurice helped me down the hill and across the street.
We then traveled to the ruins of Laodicea. The terrain was pretty rough so I stayed in the bus. There was a bride and groom there getting their picture taken, I'm sure the bride's long dress was ruined, walking around in that dirt. The place must have had some very special meaning to them. We spent that night in Pamukkle (Cotton Castle).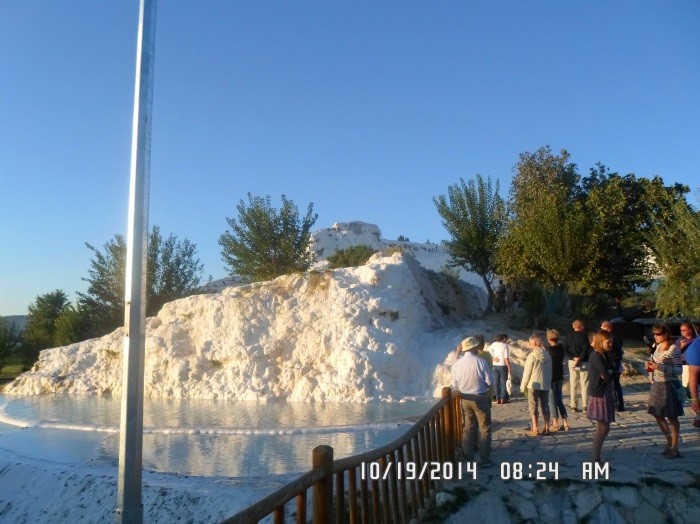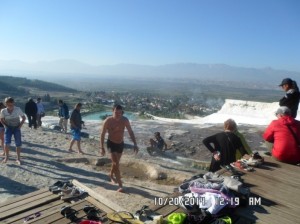 I had to include this picture with the barefoot guy in a swim suit. If you'll notice, most people had on coats. The warm water there is supposed to be healing.
That evening I got to test that idea. On the way to Pamukkle, the city, I got a horrible cramp in my foot. Kathrine rubbed it which helped until I walked a ways on it; I tried eating a banana which didn't do much. At our hotel they had a spa and a masseuse so Bruce and Sheila helped me to the mineral water spa where I soaked my feet, then got a full body massage. I felt much better then. (What a whiner)
Monday, the 20th, we started the day at the baths and ruins of Pamukkale, which were up a pretty steep hill. The interesting thing was I found a shuttle that charged 2 lire for a ride up the hill, which I willingly paid. Doug, Melissa and Bruce pushed me around in a wheelchair. When we were ready to go back down the hill I went to the shuttle for a ride only to find out it charged 15 lire for a ride back down. Talk about a scam….they have you trapped! Doug ended up pushing me in the chair, the poor guy. Rohan had told us to just go straight down the hill, but boy was he wrong. A lot of us ended up getting back to the bus late.
We stopped at a carpet weaving place for an hour where we ate lunch, watched a little of the carpet weaving and then a sales presentation. I saw a small one I really liked until I found out it was $900!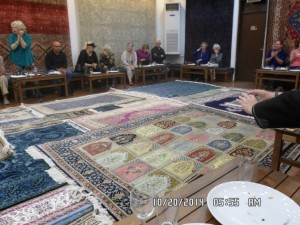 They were beautiful!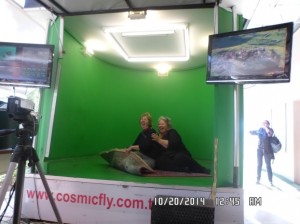 This is Kathrine & her friend that was blind (I forgot her name) getting a video of them on a flying carpet. What fun.
We continued on our journey and got to spend four hours in Ephesus.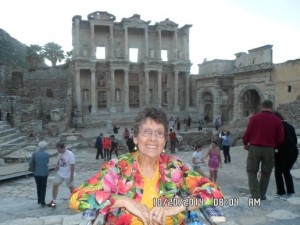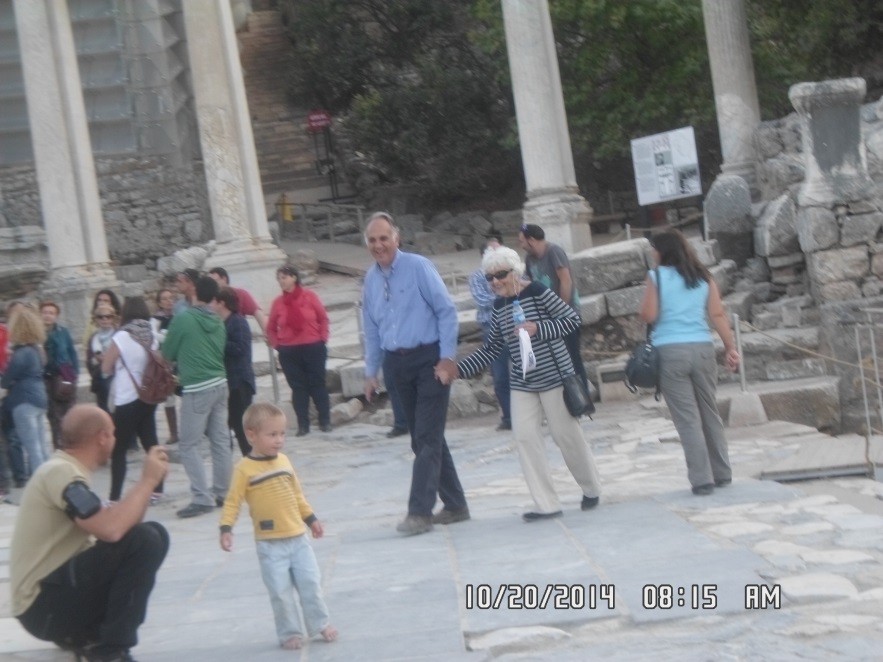 This is me in a wheelchair in front of the ruins; the bigger picture is Bruce and Eunice. Pour Doug and Bruce pushed me around in the wheelchair that a hospital there was kind enough to bring us. When we got to the huge amphitheater, Bruce read some scripture pertinent to where we were then he, Jackie and Brenda sang 'How Great Thou Art', the acoustics were amazing and it was beautiful. We spent our final night in Turkey at a hotel in Kusadasi after saying goodbye to Rohan, our Turkish guide.
We boarded the cruise ship Louis Olympia and met our new guide Melena at 10:00 AM the next morning. It wasn't a huge ship but it was nice. After eating lunch I went to a Greek cooking demonstration then a quiz game on Greek mythology.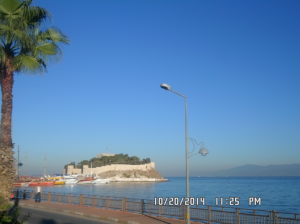 Patmos Greece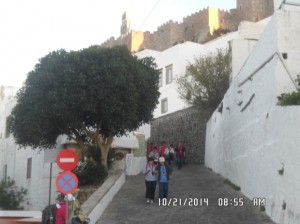 At 4:00 we had an exertion to Patmos Greece. The group toured the cave where John stayed after he was exiled to Patmos. There were 45 steep steps into the cave so I couldn't go. We then arrived at the monastery which had a steep cobblestone road leading into it, so I sat around below.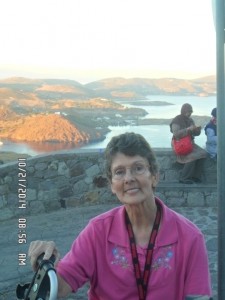 This is a fascinating picture of me waiting. It was another discouraging day.
But then we arrived at Rhodes Greece on Wednesday. The tour everyone was to go on left at 7:00 AM but Melena had told me there were too many steps and rocky hills for me so I didn't have to get up at 5:00. That morning I got up late and after eating a leisurely breakfast I got off the ship and walked up to the Virgin Mary Gate in the wall around the city. I enjoyed the walk and the sense of peace in the area; it was amazing how blue the Aegean Sea was. I stopped in at a few shops then went back to the ship.
After lunch I decided to find an ATM, I walked a mile and still hadn't found one when I came upon a taxi. I asked if he could help me and he said he'd drive me around Rhodes for an hour and take me to an ATM for 40 Euro. I thought that sounded reasonable so I got in. The driver's name was Mike and he was a real blessing to me. He drove me around the old and new city telling me the history of everything.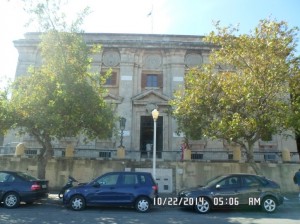 This is a picture of Mike.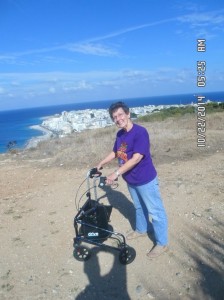 This is a picture of me that Mike took, overlooking the city. He told me about his family and his daughter that turned 18 yesterday. The tour ended up taking 2 ½ hours but he didn't charge me extra, so I gave him a tip of 10 Euros and told him his mother would be very proud of him.
After he got my walker out of the trunk he hugged and kissed me on the forehead. It ended up being a glorious day. Before dinner I went to a piano concert on the ship with Farrell and Beth.
We docked in Crete on Thursday and a bunch of us decided to be lazy. I met Farrell, Beth, Claudia, Cora and Maggie at 9:30 and we got a taxi after we left the ship to drive into Crete. Drove around for a while but I didn't get any pictures. They got breakfast but I had already eaten on the ship.
The ship docked at Santorini at 4:30 and we had to take tenders into the island. I say had to because it was a little horrifying with the sea being very rough, as you can kind of see in the picture below.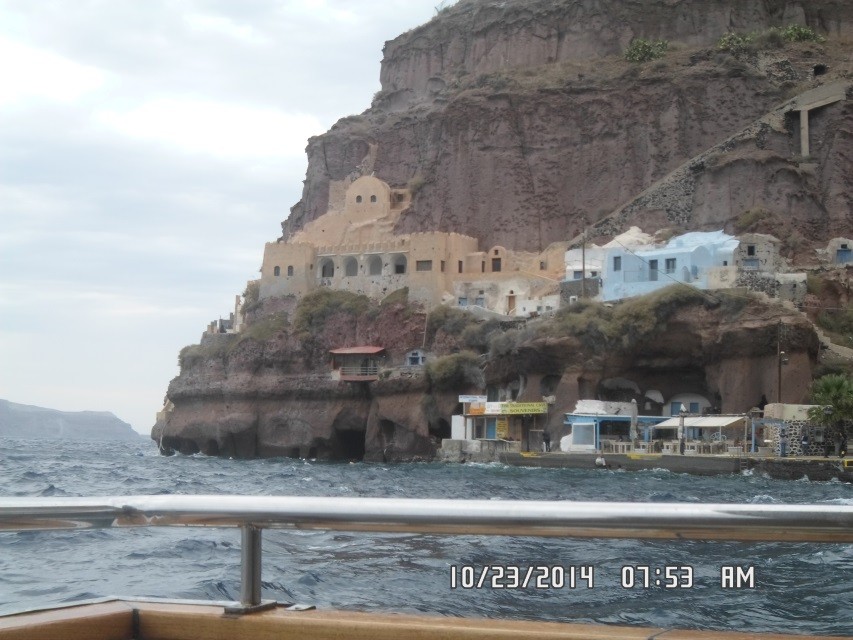 We took a funicular up to the city but there were lots of steps also, Melina help me maneuver them. The streets there were cobblestone again but Bruce and Sheila helped me get around. It was very cold and windy so we stopped at a coffee shop to warm up. Below is a picture from Santorini.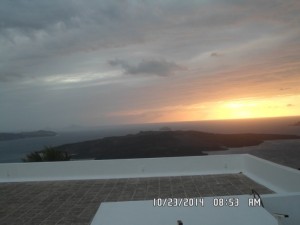 I bought some olive oil soap then we decided to go back to the ship. The wind had gotten worse so getting back on the ship was really scary. Farrell had bought me some soap too, wasn't that sweet?
The 24th was another early day because we had to disembark the ship at 7:00 AM in Piraeus to catch a bus to Corinth. It was cold and rainy again so I just walked a little way and saw where Paul had preached, and then I walked to the museum and listened to the commentary about what he had done there. I spent some time talking to some teenagers from London and a lady that was from Austin. We stopped for lunch before we headed to Athena on the bus. I had some moussaka which was very good.
The roads were flooded and slick due to the rain in Athens, so traffic was literally stopped, it took us an hour to go one mile! A man in a car ahead of us finally got out and started directing traffic, which helped.
The next morning in Athens I got a good picture of the acropolis from our hotel balcony,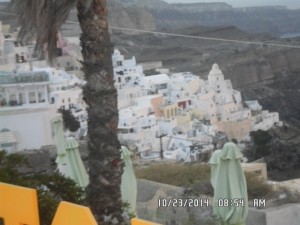 We left at 9:00 AM for tour of Athens. Here we saw where Paul spoke to the multitudes and I got a picture of Bruce reading scripture and talking about Paul's faith.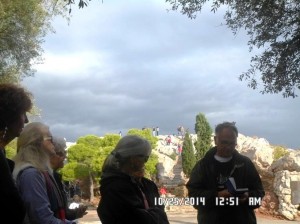 It was a long walk up the hill to the place by the Acropolis so I held onto Doug and Billy's arms and Cora pushed my walker. That was so much easier; I wish we had thought of that earlier on this trip. Even so, about half way up the hill I was exhausted and this wonderful lady stopped in her car and asked if she could help and gave me a ride the rest of the way. Bruce came over to the car and offered to pay her and she said, "Oh, don't be silly." God bless her.
I sat on a bench and listened to Bruce and Melina talk about Paul's activities, which gave me goose bumps. Melina called a taxi to take me back down the hill. We walked through an area of small shops after lunch and beings that was our final day I did some shopping for Christmas gifts before I went back to the hotel. We had to get up at 3:00 AM the next day because our flight back home was at 6:25 AM so I went to bed pretty early.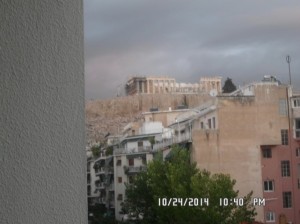 This is a picture from our hotel.
This was a very inspiring trip. We were able to hear or read for ourselves the scriptures pertaining to the places we visited and imagine the strength of character the Apostle Paul must have had.