This has been an adventure that I will never forget. My sister, Becky, and I took our 81 year old mother on a Mediterranean cruise. Our celebration began in Barcelona, Spain on May 12, 2006. We flew into the city two days before the beginning of the cruise so we could take our time and really experience this wonderful, laid back and inviting city.
I had found a neat place for us to stay on the internet. It was called the Aparthotel Acadia and it was outstanding. It was basically a reasonably priced apartment in the central part of Barcelona. It was so convenient to every place we wanted to see.
You wouldn't believe how neat some of the intercity streets are. They have this wonderful walking area down the middle of the streets from the main square, Placa de Catalunya, to the column honoring Columbus on the waterfront. The Spanish call it Las Rambles. There are multiple types of trees lining the walking area with flower gardens, vender stalls selling snacks and souvenirs, cafes, bars and street performers all along the way. The really strange thing is that there are also motorcycles everywhere; they ride on the sidewalks and right over you if you're not paying attention.
Our first day in Barcelona, we basically shopped and checked the city out. It has such a peaceful atmosphere. However this changed momentarily when I stepped off a curb to cross a street and a car backed into me. With my walker, I couldn't move fast enough to get out of the way. Thank God Becky was with me. She started yelling and beating on the car and he stopped. Nothing like a little drama to start a vacation. He actually just brushed my leg. But the adrenaline was pumping through all three of us.
As we were walking I saw this beautiful townhouse across the street and took a picture. It was white with what looked like blue waves across it. It had unique sculptured balconies under the windows on the upper floors, these cute towers and a red tiled roof. I found out later that it used to be the home of Antoni Gaudi, it's now a museum. But this really startled me because the artist Gaudi was the main reason I was interested in Barcelona.
We bought a two day bus pass on our second day, which is the most convenient way for us to see a city, because it lets us go at our own pace.  This allowed us to be dropped off at the Sagrada Familia, the dynamic but strange cathedral designed by Gaudi. Work on this cathedral has been going on for more than a century. It is so dramatic with its towers jutting into the sky and its multiple dimensional arch ways, but when you get near to it you see that the façade isn't smooth, it looks like mud has been smeared over it in some parts! It is one of the most distinctive buildings in Barcelona, to say the least.
We actually spent most of the day in the old part of town called Barri Gothic. It's a maze of streets, where automobiles aren't allowed, inside a wall build by the Romans 2000 years ago. The winding streets are lined with darling little shops and boutiques but it keeps its medieval atmosphere. There were people dancing in the streets and I passed what I thought was a statue until it moved and I realized it was a man painted bronze! It scared me at first, and then I had to laugh. I spent a little time watching other people's reactions to him and it was really funny; especially the kids. Our next stop was Park Guell which has some wonderful fantasy structures created by Gaudi. The most distinctive was the huge multicolored mosaic lizard fountain. It's kind of like being in fairy tale land; great fun.
The next day was when we were to get on our ship, the Millennium. We had to check out of our hotel by noon and couldn't get on the ship until 3:00. We solved this problem by checking out, taking a taxing to the pier, which wasn't far, leaving our luggage there and taking the bus for some more sight seeing. Aren't we inventive?
The ship was really big and beautiful. The day after we boarded was a sea day and I sat in on a wonderful lecture about Impressionist Art and later, one on the Sistine Chapel which really fed my excitement about our visit to Rome. In the evening, Mom & Becky went to one of the live shows; I was feeling sick so I skipped that.
Our first port of call was in Villefranche. Mom, Becky and I first just got off the ship and walked around the area close to the pier. It's a really quant shopping area. I bought a cute coffee cup, which I collect, and some perfume that's not sold in the US. After lunch on the ship (the food's included in the price of the cruise so you might as well eat it) we took a tour of Nice and St. Paul de Vence, France. We drove by this sprawling, beautiful, yellow villa, over looking the sea on the Riviera. It was owned by Elton John.  The tour was fun, every time we got off the bus, the bus driver would help me by having me put my arm around his neck as we went down the stairs. We all got a lot of giggles over that.
Nice was lovely but it had some pretty exhausting hills to climb. There were also a few steps but I was able to manage them fine. St. Paul de Vence, a medieval village, was the same but our guide let us take quite a few breaks, which helped. This made our tour take longer than planned so we were later for dinner, but we were able to be served anyway.
Our next port was Florence, Italy. Becky & I had been there before. It's a beautiful city but it's not set up for the handicapped. The streets are cobble stone and there are steps everywhere. The last time Becky & I were there we were late getting back to the tour bus so Becky took off running and I was walking as fast as I could and tripped and fell. This time, like a dummy, I decided to just roam around Florence on my own. I did get a picture of a beautiful church called Santa Crocia. Mom and Becky took a tour of Tuscany, which is featured in so many Impressionist paintings. They said it was beautiful; they really had a great time. I now wish I had gone with them.
And then there was my blessed day in Rome. The cruise offered an excursion called 'Rome on your own'. In my research I found out that this excursion dropped people off at the Piazza San Pietro which is pretty close to the Vatican museum. So that's the one I took.
Well, let me tell you, there are angels amongst us and there were a few with me in Rome. To start it all off, when I got on our tour bus I told the tour guide, Margaret, about what I planned to do and asked her if she had any advice. She told me to stay on the bus when we got there and she'd come back and help me after she got everyone else on their way.
When Margaret came back to get me, she walked with me into Piazza San Pietro. It was a bit of a mess in there because it was Thursday and on Wednesday the Pope had held his weekly audience for 30,000 people. Margaret walked over to a policeman that was supervising the clean up. She asked him if there was a way, without stairs, for me to get to the Vatican Museum. He gladly told her how this could be done. Margaret then told me and also said that there was going to be a long line to get into the museum. She told me to just walk on the side of the line and hope someone would let me in when I got to the front. This sounded a little scary but I figured I might as well try it.
I took off walking through the Roman Pillars that encircle the Piazza San Pietro and found the ramp that the policeman told us about. I walked down the ramp and onto the road that led around to the museum entrance.  I walked a couple of blocks along a tall, cream colored, stone wall. At the end of the wall, I turned the corner and there was a line of people that seemed to go on for an eternity! I did like Margaret told me to do and started walking in the street around them. The line was three or four blocks long, going up a hill. By the time I got to the front of the line I was totally exhausted and pretty sweaty. There was a sweet, dark haired, young lady close to the front of the line. I assumed she was a teacher because she had about ten kids with her. She motioned for me to get in the line in front of her and the kids. I hope God blesses her for her kindness.
Then, after I got into the museum, this darling young guard named Eduardo, with black wavy hair and gorgeous blue eyes, literally adopted me. He walked me all around the museum, showing me the beautiful artwork. I especially loved the works by Raphael and Michelangelo but there were also beautiful gold pieces and Egyptian artworks dating back to 2400 BC.  After walking around for a couple of hours Eduardo took me to a restaurant there in the museum. He said he'd come back and get me in an hour and take me to the Sistine Chapel, which was my main goal. I ate an expensive sandwich, drank a diet Coke, used the toilet and waited for Eduardo.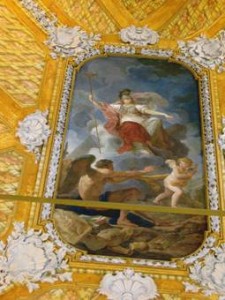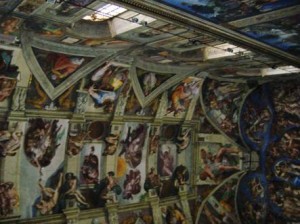 (These are 2 pictures I took before I had to put the camera away)
Eduardo came back and took me through these passage ways that were labeled 'No Entrance', down a beautiful hall that was called the Galleria and into the Sistine Chapel. It is a relatively small chapel, which surprised me. I was expecting it to be this huge cathedral. However, it was the most moving enclosure I have ever been in. There was beautiful religious artwork all around the walls and of course the unbelievable ceiling frescos painted by Michelangelo. The Sistine Chapel is the Pope's chapel and the room seems to vibrate with the intensity of the paintings. These paintings mainly depict the life of Christ and Moses, and of course 'The Last Judgment'.
While I was in the Sistine Chapel I heard a couple of ladies talking about another lady that got so tired walking up all of the stairs into the chapel that she threw up all over the stairs. I've heard there are more then 100 steps and it's pretty warm in the stair well also. See why I said that Eduardo was an angel?
I left the Vatican Museum at around 3:00. It was more than an hour's walk back to where I was to meet the tour bus at 4:00 and boy was I tired. So I hailed a taxi, it was the best 4.88 Euros I've ever spent.
I got back to Piazza San Pietro and sat and scoped out these cute teenagers that were obviously on a school trip. One of the boys had a guitar and would periodically break out in song and entertain us all. I really enjoyed watching them.
In one day so many people were nice to me. I got to tour the Vatican museum and see religious artifacts that dated back thousands of years; there were also stone carvings dating back to the Stone Age! There were awesome things made out of gold and of course the paintings in the Galleria. But the most exciting part of the day was actually to experience the Sistine Chapel and imagine the historical legacy! It was truly a blessed day that I will never forget.
I was in our state room when Mom & Becky got back from the tour of Rome they had taken. Mom's face was bright red, she was drenched in sweat and she looked exhausted.  Becky was so mad she said she was going to file a complaint. They told me about their tour guide that walked so fast she would leave people behind and half the people couldn't hear what she was saying because of this. People would tell her that they were exhausted or needed to use a rest room and she would tell them that they had a stop just a short ways further. Her short ways was usually more than a mile. She didn't seem to understand that the majority of people on the tour were over 50 and when they said they needed a toilet stop; they meant now! Mom was mainly embarrassed because she felt like she had slowed people down.
The next day we were in Naples. I took a tour which included a drive into the city of Sorrento, Italy, which had the smallest streets I've ever seen. The streets were lined with lemon and orange trees that smelled wonderful. We drove along the majestic Amalfi Coast and by Mt. Vesuvius, which destroyed Pompeii in 79 AD. It was amazing to see the beautiful houses built right into the mountain along the way.
The neatest thing was that I overheard two guys, sitting in front of me on the bus, talking about the little old lady that was on their tour of Rome. They said that she kept up with everyone, never complained and didn't demand rest stops. That amazed the two guys because they said that they were tired, thirsty or needed to go to a restroom. They said the old lady had to be in her seventies and she put them to shame.  I finally realized that they were talking about my Mom! I leaned around their seat and told them that I thought they were talking about my 81 year old mother. I also told them that she might be small and old but I hoped I would have her stamina when I reached her age. They laughed & said they wish they had her stamina now! I told Mom about what I had over heard when I got back.
Santorini, Greece was the next port of call. We actually ported in Fira, and then rode a bus up the mountain to Santorini.  It is the legendary birth place of Apollo and truly beautiful. The city was built on a volcanic mountain and dates back to 400 BC.  The buildings were whitewashed with blue roofs and with the clear blue Aegean Sea in the background it was absolutely beautiful.  We spent the morning with our guide and she was very informative. At one point as we were walking around the city we came upon a man selling fish out of the back of his truck. It smelled horrendous and looked very unsanitary but it seemed to be accepted by everyone.  At the end of the tour our guide told us that we had to take a donkey back to the ship, walk down 600 steps or take a cable car. Of course I chose the cable car. The only problem with this was that the bus dropped us off a mile from where we were to get the cable car and there were 40 steps leading up to them. The guide had asked me if I could go up steps by myself and I told her that it depended on if the steps were deep enough to hold my walker. She said that they were and I didn't ask any more questions, which was dumb.
Then I got to the steps leading up to the cable cars. You wouldn't have believed how old and decrepit they were! They also tilted at close to a 90% angle! I couldn't believe it but I started on the long trek, staying close to the buildings that lined the steps. Any time I had a problem there was a person standing in a shop doorway that would come and help me, they were so sweet. At one point I almost fell and this darling young man caught me. He was with a lady that he said was his girl friend's mother and they were on the Millennium too. They decided they were going to stick with me until we got back to the ship, God bless them.  The guy told me he's the featured singer in the show 'Fantasea' which is being performed on the ship. The rest of the day I just relaxed and played cards with Mom and Becky. It was so funny; by that time Mom had the reputation of being 'The determined woman', she was the talk of the dining room. It was cute how proud of that she was.
Piraeus, the port outside Athens was our stop on the next day and turned out to be a very interesting experience.  Athens was planned in 500 BC, there are now 4.5 million inhabitants and the streets were a mad house. At one point during our tour, the bus turned a corner and couldn't complete the turn because there was a pick-up, with flowers in the truck bed, double parked and blocking our way. Our bus driver honked and honked trying to get someone to come out and move the truck. Finally a lady came out and told the bus driver that the owner of the pick-up was in her building, stuck in the elevator! She said he was trying to break the door open so he could get out but he hadn't accomplished this yet. We finally got some passers by to push the pick-up truck out of our way and we were able to move on. I hope the guy got out of the elevator all right. Athens is an interesting city with interesting people but I don't want to go back, it's too confusing.
We had a 'Sea Day' next and it was really appreciated. I got to see 'Fantasea' and the cute guy that helped me in Santorini. He had a beautiful voice and the show was spectacular. I'm really glad that I went.
I went into Dubrovnik, Croatia the next morning at 8:00. It was very pretty but hot and humid.  The city is over 800 years old with many fortresses, towers and churches. Beings it's right on the sea it would get attacked often. It used to be a part of Yugoslavia but in 1991 it went to war with Yugoslavia and won its independence.  The roofs of the buildings are all red but our guide said that before the '91 war the roofs were yellow. There must be some significance to the change in roof color, but no one seemed to know what it was.
The streets were made of marble which looked lovely but it was kind of slick to walk on, especially the hills. After our bus tour I separated from the tour group because the guide walked too fast & I couldn't hear what she was saying so why wear myself out trying to keep up and maybe slip onto my butt. I got some good pictures of the tiny side streets that had all of the steps and a couple of churches.
Mom was a little fretful about the tour that she was taking because it said she had to be able to walk 350 meters and she didn't know how far that was. I asked the cruise directed about it while I was waiting in line to get off the ship. He said it was about the length of the ship so I called her in the room and told her. She seemed relieved. She was going on a visit to a private home, where she'd learn about their customs and have lunch. It also went to an artist's gallery, which she wasn't much interested in. I would have liked that part but the description said it was 20-50 steps to get into the gallery, which I knew would be hard for me. We all took separate tours, but two men and a lady kept a pretty good eye on Mom. She really enjoyed the excursion.
Our final port of call was Venice, Italy.  It's a lovely city of beautiful canals. Mom and Becky took a tour but I had been there before so I just walked around on the pier. It was pretty nice to do this because I could go at my own pace and see what I wanted. This is also where we caught our plane back to the US on the following day.
On our flight back, Becky and I decided we'd take a New England/Canada cruise in October next. That way we can see the beautiful foliage. Mom said she'd like that too; she is a very determined woman. She earned her reputation.