Red Hat Society Florida Holiday Fanfare, 2004
An enlightened woman lives life with a sense of adventure and joy. Life and the harrowing experiences that go along with it happens. We can choose to get stuck in the circumstances and sorrows or we can make the most out of what life hands us and live life with a sense of courage and adventure.
The Red Hat Society has given me a group of people that are even more flamboyant and extravagant than I am. I never would have believed that life after 50 could be so much fun! But the Red Hat Society has been an avenue through which I can experience a ridiculous amount of joy.
The Florida Holiday Fanfare was a gathering of around 900 women, feeling very empowered to be flamboyant, outrageous and audacious. Our assignment from the Red Hat Society's founder, Sue Ellen Cooper, was to have fun and play. Many of us have taken the responsibility of adulthood so much to heart that we have forgotten how to experience this kind of joy. Our event program stated that we were "gathering from around the country to meet and greet each other, to giggle, to eat, to dance and perhaps to indulge in the Red Hat Society official sport of shopping. In our hearts we all remain girls and, like the song says, we just want to have fun."
We've all paid our dues and can now live life for the fun of it. We can feel the joy in every moment. We are now enlightened and empowered because we can talk with our Red Hat Society sisters and share our experiences and stories. 'We share a bond that is formed through our common experiences and an enthusiasm for wherever life takes us next' to paraphrase Sue Ellen Cooper.
Do you remember turning 30 and thinking your youth was over? Well, I'm here to tell you that our youth never ends as long as we stay in touch with the child inside each of us.
The Red Hat Society's Florida Holiday Fanfare gave about 900 of us free spirited women the opportunity to let our hair down and be as frivolous and fun loving as we wanted.
This Holiday Fanfare gave me the opportunity to experience the Orlando Florida area, plus meet women from all over North America. I attended the convention by myself, which is very empowering. This enabled me to meet a lot of new people that I could visit the attractions with or go off on my own and experience some of the adventures at my own pace. You see I walk with a three wheeled walker, so I move slower than most people. This slowness has sometimes made me feel self conscious.
I got to enjoy Universal Studios, Epcot, Downtown Disney, MGM Studios and Winter Park. When I was with other R.H.S. ladies we all dressed a little outrageously, which was a lot of fun. You can imagine some of the looks we got, it was hilarious. I'm a firm believer that we attract the same spirit that we radiate. We Red Hat Society members radiate our joy in the experiences of each day and people react to us with joy and laughter.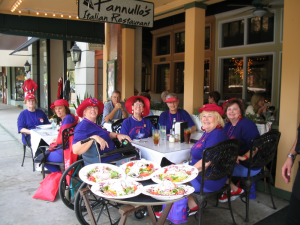 I'll have to admit that when I went out sight-seeing on my own I just wore jeans and T-shirts. Its fun standing out when you're with a crowd but being in a walker makes me stand out enough when I'm alone.
At the convention itself we had numerous Playshops we could attend; a Holiday High Tea, a Pajama Breakfast and a Royal Holiday Banquet Dinner. I got to meet Sue Ellen Cooper, the Exalted Queen Mother and Linda Murphy, the Esteemed Vice-Mother (boy you can have all kinds of fun with that title!) they are the founders of the Red Hat Society.
I got to meet so many nice and interesting women; it really made this an adventure. I spent most of my time with four women from Canada. One of them was in a wheelchair so I didn't have to feel like the slow-poke.
My personal life has been filled with numerous obstacles I had to overcome. I now realize that these obstacles instigated my spiritual growth. I am a recovering alcoholic that has had the gift of sobriety since July 1st, 1980. The AA program gave me a way to approach life with a solution in mind. I no longer get stuck in the problems of life. I start each day with the belief that this day will be an adventure. The Red Hat Society gave me an opportunity to experience the second half of my life with women that have a sense of adventure.
The ladies in the Red Hat Society love to laugh and play. They provide an opportunity for each of us to connect with other women and experience the camaraderie of experiencing new adventures with like minded people.
Remember how we all loved to play dress-up when we were children? The women in the Red Hat Society get to experience that fun at every opportunity. We invite people's startled reactions, looks of amazement and applause.  In fact we love it.
When you cross that threshold (turning 50) please find a RHS group to join and come and experience the fun we have.