I don't know if it was crazy or courageous, but I undertook this experience on my own. It started out as a trip for me, my sister Becky and our Mom, but things changed. Becky canceled out nine months before the trip because she decided to go to her 40 year high school reunion. Then, in August, Mom, whose 86 years old, had some heart problems and her doctor wouldn't let her take that long of a flight. But a couple of harrowing things happened on the trip that made me very glad that Mom stayed home.
I did some investigating and found out even with our trip insurance I would lose $924 if I canceled out too. It cost me an extra $450 to have the stateroom on the ship by myself, but that seemed like the lesser of two evils. Besides, I was excited about visiting the Far East.
The adventure began with me leaving Pflugerville at 5:20 AM on September 14th to drive to DFW airport in Dallas for my 12:00 flight to Shanghai China. It's a three hour drive and I should have had plenty of time, but of course I got lost in all of the road construction around DFW and ended up getting to the airport & checked in just as they were boarding the plane. But I made it. The flight to Seoul was 14 hours, and then we had a 2 hour layover which turned into 3 hours, which meant we got to Shanghai at 8:30 PM.
I thought I was so prepared. I had printed off the address and information about the hotel I was going to and I knew that I needed to catch the number 2 bus from the airport to the Jingan Temple. From there I was going to catch a taxi to the hotel. A man on the bus helped me get my luggage off the bus and hailed me a taxi. Going good so far, right? Oh so wrong, that's when problems began. I had things written in English, not Chinese and none of the taxi drivers I spoke to understood English. Finally an Englishman stopped & asked if he could help; I was scared and almost in tears so I gladly welcomed his help. He had an IPad and found the directions, then had the IPad change it to Chinese which he showed to a taxi driver. Thank God for modern technology.
I finally got to the hotel at 11:00. I took a hot bath and went to bed after spending so many hours on the road, in the air or in airports. This would have done Mom in.
The next day (the 16th) I woke up at 6:30 AM of all things. After breakfast I decided to explore this fascinating city. I got the hotel manager to write in Chinese where I wanted to go and the Hotel name and address and got a taxi back to the Jingan Temple.
After exploring the temple I bought a ticket for the Big Bus tours and rode it around Shanghai. These buses are wonderful because they have head phones in lots of languages and you can hop off anywhere & do what you want then get back on another one. I did some walking around the garden area and watched the children playing. I then went to the Jade Buddha Temple.
It was interesting to see but neither one of the Temples had air conditioning so I got pretty sweaty and tired. I then took the bus back to the Shanghai Museum; it had air conditioning and some really ancient things.
I ate lunch at the museum with a couple from Pittsburgh; that was nice. They told me about all the different Chinese dialects & explained that Shanghaieeze is a language all its own. I took pictures here of some bronze weapons and wine utensils dating back to 1800 BC. Spent most of the afternoon there, then went back to hotel and walked around the shops in the area.
September 17th I took a taxi to the cruise transit. It only cost about $6. We did a lot of standing in lines but I met a nice couple from Scotland that I visited with, Mary & Larry. I love the way they talk. Finally got on the ship, Royal Caribbean's Legend of the Seas, ate lunch and then unpacked. I had a nice big stateroom. After getting all of that done, I got a massage because I deserved it and had a very relaxing evening. We left Shanghai around 5:00.
Then typhoon Roke hit. This meant that we had to change our course. We skipped stopping at Jeju Island like was scheduled and just sailed. The seas were rough, which made my walking a little precarious but at least I wasn't getting sea sick like a lot of other people. I played video poker for a while and lost $10, cheap entertainment. I had dinner with my tablemates and that was interesting. There are two ladies from Houston (Debbie & Elizabeth), a couple from San Diego (Stephanie & Dan), a couple from Australia (Bill & Barbara) and a couple from Hawaii (John & Violet); they are all fun and entertaining.
The next day was another Sea Day because of the storm, so I took life pretty easy. I ate a lot, played video poker again and won $10 this time, and did some shopping. I bought a cute $10 watch. At dinner we were all acting pretty silly, especially Stephanie, Dan, Bill and Barbara. We all laughed ourselves goofy and had a great time.
On September 20th we were able to dock outside Vladivostok Russia. In the afternoon I went on an excursion into the city. We had to get on tenders (small boats) to get from the ship to the pier. It wasn't too bad going into the city. Vladivostok is a very hilly city with sidewalks that are falling apart. It was nothing like the beauty of St. Petersburg, Russia. We drove around the city, went to a science museum and visited a family's apartment. The lady whose apartment we visited was nice, but kind of boring.
The ride back to the ship on the tenders was a real adventure. The winds and rain had started up again, which made the seas very rough. I thought the tender was going to turn over a couple of times and we had a terrible time getting in close enough to the ship. It was very scary.
September 21st was a relaxing sea day where I ate too much, played video poker again and came out ahead $7. I'm probably going to bankrupt Royal Caribbean. After I took a jewelry making class I checked my e-mails and had one from the Princess Cruise Line wanting to know if they could post the article I wrote about our British Isles cruise. That certainly bolstered my ego.
The next day we docked at Bussan South Korea. This was a really interesting city and I took an excursion with a wonderful guide.
She explained that the Korean heritage is Mongolian, which is the reason for the shape of their eyes and their sunken foreheads. She also said that they are born with a red mark on their butts at birth, which fades by the time they are two years old. She said the mark was from them being kicked out of Mongolia. Our first stop was at the Temple of the Eastern Sea Dragon, it was really old and fascinating; there were 108 steps, representing virtues, to get to the temple.
The group left me at the top of the stairs. I walked around a bit and spotted an area that had some tents with people selling merchandise. I decided to check them out. The only problem was that the area was down a steep hill. I headed in that direction but was having some difficulty making it down the hill and this really sweet man stopped and helped me. It was fascinating to see what they were selling. Some had baked goods that looked like bread and cookies, some had bugs and animal parts in jars (pretty gross), and others were selling spices. There were also tents with toys and clothes. I ended up buying a cute outfit for $10. After we got back on the bus we went to the APEC Park, which looked pretty but after walking around a bit, I got tired and went back to the bus. We were then dropped off at a place called the International Market'. It was actually just some shabby stalls. The best things to buy were really found in the stalls on the pier by our ship.
We docked at Fukuoka Japan on September 23rd and were there for two days. I went on a tour of the city that was pretty good. John and Violet from my dinner table was on it too, so I stayed with them most of the time, they have a serene attitude. It's actually two cities. Fukuoka is the new city; it's 400 years old. Hakata is the old city which is 1000 years old. We walked around the beautiful Ohari garden, then the Kushida Shrine.
The Shrine had some huge elaborate floats that were fascinating; I got some pretty good pictures of them. The city was celebrating the equinox so there were lots of kids running around, due to a school holiday.
I got a big shock when I got back to the ship at 3:00. I had gone to the purser's desk to ask some questions about Fukuoka and was told that the tour and airport drop off excursion in Shanghai had been canceled! I was furious and threw a bit of a hissy fit, but that did no good. I went to my stateroom and tried to calm down and figure out what I was going to do once we got back to Shanghai, I mean my flight out wasn't until 9:20 PM on September 26th.
After I ate dinner, and did a bit of complaining to my tablemates, I went to the excursion desk, which was then open. A sweet, blonde young man from the Ukraine named Dmitri was there and calmly listened to me. We then explored all my options and decided that getting a taxi from the cruise transit to the airport would be cheapest. He even said that he would help me get my luggage and a taxi, God bless him.
On the second day in Fukuoka I took it easy. At 1:00 Dmitri walked off the ship with me, then hailed a taxi and explained in Japanese that I needed to go to the 7/11 shop in town to use the ATM, and then go to the Folk Art Museum. That all worked out well, the taxi driver was sweet and patient. He even came back and picked me up at the museum at 4:30.
The Folk Art Museum was fascinating. I watched a man make a pottery statue and a woman weaving, they also showed a video of the elaborate floats I saw yesterday being made. I spoke with a young man that was from Rhode Island but working in Tokyo now. He said he was in Fukuoka to visit his girlfriend, but he seemed kind of lonely.
When I got back to the ship I stopped by one of the souvenir stalls on the pier and bought a cute yellow kimono with black and red flowers and a dragon on it.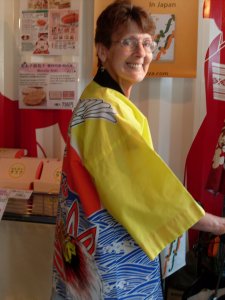 I got a picture of some kids dancing to drums on the pier after I got back on the ship; they were great fun to watch.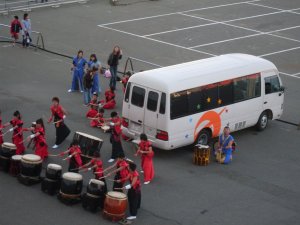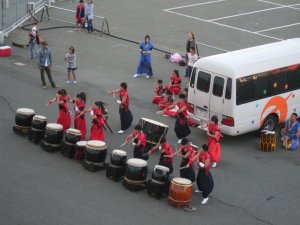 On the 25th we finally got to see Jeju Island, we had to skip it at the beginning of the cruise because of the typhoon. I took a very early excursion, 7:30, to see the highlights of the island. It's small, with a lot of rocky cliffs overlooking the seas and beautiful greenery. We were told that it's a lot like Hawaii. I got some good pictures in the botanical gardens. The tender ride back to the ship was a bit ruthless. The China Sea was very rough and kept us rocking and rolling.
I said my good byes to my tablemates that evening. They were a good group of people and kept things interesting.
And then the day that would test anyone's serenity began. I got up at 7:00 AM on the 26th and went to breakfast; luckily I was in the last group to be taken off the ship at 9:00 AM. It took an hour on a bus to get from the ship to the terminal. At the terminal, a sweet girl from
the ship helped me get my luggage and a taxi. The purser had written out in Chinese that I needed to go to the airport, but not which terminal I needed. I showed the driver my ticket and he nodded his head OK. We ended up going to the wrong terminal first, but he found
someone that could tell him where we needed to go. My flight wasn't until 9:20 PM, so I wasn't too worried about missing it, but I hated to waste the taxi driver's time.
After I got my luggage checked in, I did some walking around and shopping in the stores there at the Pudong International Airport which was quite fun. I bought a shirt, some jasmine tea and a cute ceramic cat, and then had a leisurely lunch. The rest of the afternoon I sat and
watched people, finished reading a book and talked to others waiting for flights. I got to Seoul at 11:00 PM and had another twelve hour wait until my 11:00 AM flight on September 27th. I did some more walking around there and then went to the traveler's lounge and laid down on a couch and slept from 2:00-6:00. The interesting thing was that the flight left at 11:00 AM and arrived in Dallas at 9:30 AM the same day, so we actually arrived before we left due to the time changes. But, when I got to Dallas I had been in airports or airplanes for 36 hours straight!
I got my car and started the drive back to Pflugerville, but by the time I reached Hillsboro, I was starting to nod off. Luckily I was aware of it, so I pulled into a gas station and slept in my car for a couple of hours. I arrived home safe and sound, feeling blessed that I was able to experience this Asian adventure.