Denver Area with High School Friends
My flight to Denver, which I got free because of fly miles I received from the use of my credit card, landed there at 12:30. They had a wheelchair waiting for me and a nice guy pushed me over to get my luggage then outside to where we were to catch the shuttle bus to Enterprise, where I had a car reserved. Sydney met me at the shuttle bus stop, but we couldn't find Allyn and she wouldn't answer her phone, so we went on over & got the car. After we arrived at the rental place Allyn called and I told her where to go to catch the shuttle bus to meet us.
We finally got the car & the three of us together and took off for Blackhawk at about 2:00. We were supposed to meet the rest of the girls at 3:00, but like fools, Sydney, Allyn & I pulled into the Isles Casino & Hotel and tried to check in. This was a problem because our reservations were at the Lady Luck Casino & Hotel. We got over there and found out there were 7 rooms registered under my name! We got it changed to two rooms and continued from there. Sydney, Allyn & I took one room, 937, and Becky, Glenda & Ginger took room 936 across the hall from us.
It took us awhile to quit talking and get ready to go back to Denver for the Murder Mystery Dinner Theater at the Adams Playhouse. The dinner started at 6:30 so we needed to leave Blackhawk at 5:30. We ended up just taking Glenda's car because all 6 of us could fit in it, including my walker.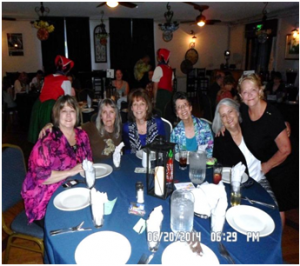 Allyn, Becky, Sydney, Gayle, Glenda, Ginger at Adams Playhouse
The play 'Death by Chocolate' was cute and we really enjoyed ourselves. After the play we drove over to Ginger's apartment. It was a really neat place with hard wood floors and huge windows that looked out over Denver. I think she said it was 2,100 square feet, that's 400 square feet more than my house! We didn't get back to the hotel until 11:00 and then we fooled around talking and carrying on. Around midnight everyone but me and Becky went downstairs to gamble. At around 1:00 AM Becky came to my room to talk. She was so wound up and a little tipsy that she couldn't sleep. It's amazing what's happened in her life. I didn't realize that since her daughter Neely died 5 years ago, she's developed all kinds of phobias. She won't ride in an elevator alone and she's afraid of snow, which is a real problem when you live in the mountains of Colorado! The rest of the girls came back to the rooms around 3:00; I woke up but went right back to sleep.
I woke up around 9:30 on Saturday; after I got dressed I went looking for some breakfast. Becky was up too so she joined me. I'm afraid I got a little bitchy because the restaurant was over in the Isles and it seemed like we had to walk a mile. It must have been because I was tired & hungry, because we know I never get bitchy otherwise (Ha). Everyone else came down around 11:30 and we decided to drive through the mountains to Evergreen, where Becky lives.
The drive to Evergreen was beautiful and Allyn did a great job driving Glenda's car on the mountain roads. We ate lunch at a restaurant called Little Bear; it was a wild place with hundreds of bras hanging on the walls and from the ceiling.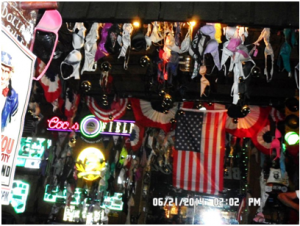 None of us left a bra there, but we enjoyed hearing a lot of stories and looking around. There are all kinds of neat stores in Evergreen that we checked out.
While we were there Sydney noticed that her flight back home was on the 21st instead of the 22nd, so she called Southwest airlines and was able to get it changed.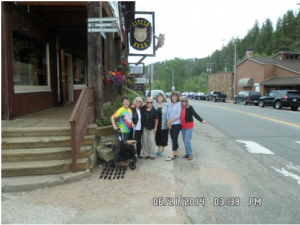 Here we are outside the Little Bear.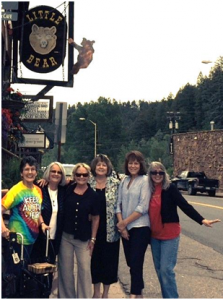 This is a better picture of us, but not of the restaurant.
We then drove over to Becky's house. This is us on her patio.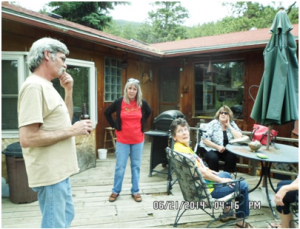 Jerry, Becky, me and Allyn.
After relaxing a while we drove back to Blackhawk and did a bit of gambling. I put $20 in a poker machine and played for 2 ½ hours before I lost it. It's not a real exiting game but it kept me entertained rather cheaply. I went up to room around 10:00, so I could shower & get to bed because we had to get up at 6:00 the next morning so Sydney, Allyn & I could leave for Denver at 7:30. We ended up leaving a little late, but we got to the airport in time for me to return the car and get checked in for my flight.
Sydney's flight wasn't until that evening so she had arranged for her niece to pick her up & they were going to spend the day together. But she got a call from her Dad saying that her Mom had gone into a coma. She ended up having to cancel her flight and rent a car to drive to Dodge City. Luckily there were two other women having the same kind of problem, so they rode with her & shared the expense. I asked Sydney if she knew the ladies beforehand and she said, "No, but they're good friends now!" Good attitude huh? When I spoke with her last she said Faye was out of the coma & doing better.
It was so great to get to spend the weekend with the girls. We didn't actually do a lot; we mainly got to catch up with each other and really carry on conversations. Becky made some important steps toward overcoming some of her phobias. She went down the elevator & out into the parking garage by herself & she's planning on flying to Seattle next year to join us on a tour of the northwest we're planning. Being around old friends can do a lot for us all.