The spring of 1999 has definitely been an adventure for my sister Becky and me. My name is Gayle Boles (I am the administrator at the LeBlanc Pre-release Substance Abuse Unit) and it all began on March 12th in London England.
London is one of the most exciting cities in the world. It is a city with a recorded history of over 2,000 years. It is really a conglomeration of little villages all jammed together, each having a personality of its own. The streets are about the width of an alley and wind in all directions. You will see a building over a thousand years old, still occupied sitting next to a modern building. The streets and traffic are total mayhem, I wouldn't have the guts to try and find my way around in London driving on my own. There are very few straight streets with 90% angle corners.
London has some of the most fascinating museums in the world. We toured the Tower of London, the British Museum, the National Gallery, the Royal Arts Academy and Westminster Abbey. The British Museum is beautiful with some really wonderful things. It holds the Rosette Stone and Magna Carta! To actually see the Magna Carta which changed our destiny about floored me. The Royal Arts Academy contained some beautiful Monet, Van Gogh, Pissarro and Cezanne paintings that can take your breath away. Westminster Abbey will knock you over it is absolutely beautiful. If you look down, you will see that some of the most famous people in history are buried under the floor below your feet.
I love what someone said, I believe it was Oscar Wilde, over a hundred years ago. "When a man tires of London, he is tired of life."
I also got to visit a section of London called Bloomsbury. This where the British Museum is and also where Virginia Woolf lived. I actually saw her apartment overlooking a park. We were told that she did most her writing standing up, looking out the window.
Our first day after leaving London was in Brussels Belgium. This is the home of NATO, great chocolates and a statue they are so proud of you wouldn't believe it. It is called 'Mannekin-Pis' and it is a statue of a little boy relieving himself. There is also this area in the center of town where people have little stalls where they sell crafts and plants and food, it's really a lot of fun.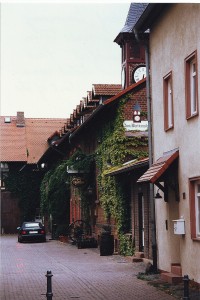 The next day we headed out for Holland. On the way to Amsterdam we stopped at a Dutch cheese and wooden shoe farm. The owner was such a cutie and so entertaining I took a video of him. He flirted with every female on our tour and sold lots of shoes!
On the 16th we were in Amsterdam and I caused a bit of excitement. We went to the Rijksmuseum. This is the home of the biggest collection of Van Gogh artwork. Well, the museum had been going through some reconstruction over the last year and most of the Van Gogh collection had been on tour around the world while this was happening. While we were being guided around the museum, I found out his collection was back in the building that is behind the main building. So Becky and I took off on our own and tried to find it. The Rijksmuseum is about the size of the White House and very few people that work there speak English, but we finally found our way to the Van Gogh exhibit. It was outstanding and I took some videos of part of it too, before a guard came and told me to put the camera away (I looked so innocent when he confronted me). Becky got scared we were going to be left there, so she took off back to the main museum to join our group. I stayed behind and enjoyed the paintings for a while. I found out from a tourist that I could get back to where our bus was by walking outside, so I did this and it was much faster and a lot easier then going the way we had come. I got back to the bus before Becky did and when she got there she said she and a couple of the others had been looking everywhere for me.
After we left Holland, we went to Mulheim Germany. Germany is a beautiful country and this is where Becky and I got into one of our more intelligent conversations; about the many ways we had seen to flush a toilet. I mean it really got confusing. I now wish I had taken pictures because you wouldn't believe some of the unique ways we saw.
Our next stop was Innsbruck Austria. We saw where the Olympics had been held. This is a truly beautiful country, with the Alps. This was my first trip to Austria and Italy.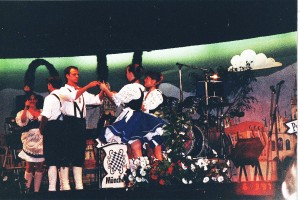 From Austria we headed into Italy and the Dolomite Mountains. The difference between the Alps and the Dolomites is really amazing. The Alps are covered in trees, plants and flowers until the elevation gets too high. The Dolomites are made out of soft stone or lime stone and have no trees and very few plants. We were told it has now been decided they were originally undersea.
We ate in Cortina Italy and I ate the strangest pizza I've ever seen. It had a crust about as thick as a tortilla and very little sauce or cheese. It had olives, mushrooms, ham, pepperoni, artichokes and some other vegetable I didn't recognize, but it tasted really good. The next stop was Venice. This was a fascinating city! We got to visit St. Mark's Basilica, which is beautiful, and tour a Venetian glass blowing shop. The glass was very pretty but it was trimmed in gold so it was definitely out of my price range. The most fun thing we did was ride in a gondola. The drivers actually sing while they paddle the boat and the city is interesting from water level. The best thing for me was the fact that the water didn't stink like it did in Amsterdam (the canals there were actually sewers!). The only problem with Venice was all the bridges, they had lots of steps and the steps weren't deep enough to hold my walker. I guess there weren't too many ladies in walkers thousands of years ago. But you know that was one of the interesting things about the castles we visited. Their steps were deep enough for me because they were made to hold horses also. Who would have thought I'd be grateful to ancient horses?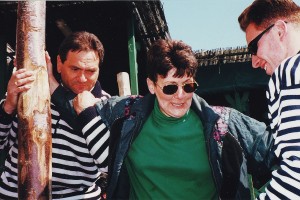 This picture is of guys helping me into the Gondola.
We stopped in Assisi on the way to Rome but I had to miss that. When you first enter Rome it looks like a real slum, but as you get closer to the ancient city itself it becomes beautiful. The buildings are huge and the wall that surrounded the city 2000 years ago is still there. We saw a place where they were going to build subway years ago and found another ancient city, more than 2000 years old, can you imagine! We got to see a lot of Bernini fountains but I missed the Trevi fountain. The pick-pockets were running wild! One woman in our group got her purse stolen. Our group got to go to the Vatican and the Sistine Chapel, I wasn't allowed to go because I'm so slow, but I was told they were fascinating.
We traveled on to Sorrento Italy the next day. We took an excursion over to the island of Capri; this place did much to improve my opinion of Italy. Capri is thrilling, with wonderful shops to explore, beautiful scenery and the people who live there are friendly and go out of their way to make you feel welcome.
The following day we drove to Florence, with a stop in Pisa to see the leaning tower. We also stopped in Carra where Michelangelo worked and obtained his marble. It is said that when he saw a piece of marble, he saw the form of his next statue in it and felt that all he had to do was chip away the excess marble. We spent an afternoon in Florence; it is called the Renaissance gem and was home to the Medici's.
From Florence we drove to Nice France. Along the way we stopped and spend most of the day and evening in Monte Carlo. This was a neat city but it doesn't compare with Las Vegas for excitement, the people were sedate and a little boring.
We spent a night in Grenoble Switzerland and got to see the World Trade Center. We traveled through Berne and Geneva, which were interesting then stopped for the evening and night in Mulhouse France. It is a lovely city. The inter-city is beautiful, it is really old and blocked off from traffic, so you can just stroll around and enjoy the beauty of the lovely buildings (below).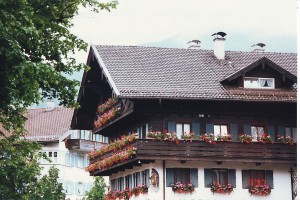 Our final stop was Paris, the most fascinating city in the world! The first afternoon we took an excursion to Versailles. It was really beautiful but it's amazing how much money Louie the 14th spent on the place; there is gold leaving in every room. I can't understand spending that kind of money on a building while the people of France were starving to death. One of the really strange things here was this huge area where they have statues of great warriors dating back 1000 years, and among the warriors they have statues of Voltaire, Rousseau and Descartes. I guess Louie the 14th also believed the pen was mightier than the sword. The streets around the Palace were really hard to walk on because they were made of these huge stones that were uneven. When we were going back to the bus we were walking pretty fast, Becky was quite a ways ahead of me, and I tripped and fell. The funny thing about this is that there was this woman rushing toward me, just jabbering away in some language and I thought she was coming to help me, but she just walked on by. I just laid there on the ground feeling quite stupid until these two young gentlemen helped me up.
Driving back to Paris, we drove through the area where Princes Diana was killed. They have put a golden torch, a lot like the Statue of Liberty's on the overpass where it happened.
The next day we took a tour of Paris and got to tour Notre Dame Cathedral and the Great Opera house. We also saw La Sorbonne, the Eiffel Tower and visited Sacra Coier, which is absolutely beautiful. It was up this huge hill that over looks Paris, actually in a subsection of Paris named MouMartre. The tour itself ended on this day but Becky and I had arranged to stay two extra days.
On the first day of our independent stay in Paris, Becky and I shopped. The second day was the most memorable though. We left the hotel at 8:30 and took a bus all around Paris; we didn't get back to the hotel until 7:00 that night. We went to the Louvre and saw some Raphael paintings and the Mona Liza, it is said that the look on her face was due to the death of her four year old daughter. We then visited the Hotel Invalides and saw Napoleon's tomb, from there we walked over to the Rodin museum. It was great to see the authentic Thinker and The Kiss. When we left the museum there were police everywhere but we didn't know why. We latter found out there had been some terrorist threats made.
Our next stop was the Orsay museum, which is my favorite museum in the whole world. It's too bad that I took Becky to the Louvre first because the Louvre is a piece of art in itself. The Orsay is made out of an old train station and the building isn't very attractive. But it contains the most wonderful collection of Impressionist's art that can be found anywhere. We saw works by Monet, Van Gogh, Cezanne and Gauguin. When we got back to the hotel we were exhausted but we felt like we had really gotten to experience Paris.
Our flight back to the US left at 4:00 AM the next day.