Friendships Surviving Many Transitions
I am blessed with so many wonderful people in my life, especially these nine women that I went to school with; some of them since grade school, in Dodge City, KS. We have been pretty good about keeping in touch with each other even though we live in different states now, thanks to e-mail.
We have had a number of school reunions; here are a couple of pictures from the one held in Dodge City for 5 graduating classes (this is the 67 group) in 2006.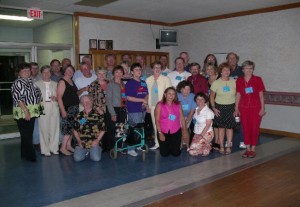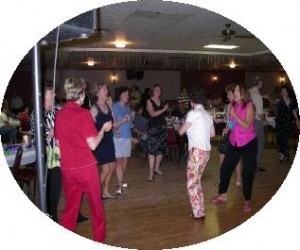 A bunch of us girls also met in Las Vegas, NV in1999, the year we all turned 50. We had a great time but nothing like this excursion to New York City. It's such a gift that we've been able to maintain contact with each other.
This adventure began at the Belvedere Hotel, which was in Manhattan at 319 W 48th Street on May 26th, 2009. My flight from Austin, TX was at 5:45 AM; with a plane change in Houston which got me to LaGuardia airport at 1:00 PM. Sydney called as I was being transported to the hotel, wanting to know if I wanted them to wait for me to get lunch. I told them to go ahead because I had no idea how long it would be before I got there & of course they were starving. I got to the hotel around 2:00, checked in and unpacked my stuff. The lunch bunch got back to the hotel at 3:00; it was Sydney Sheppard (Barns), Glenda Patterson (Zachman), Cathy Ready (Simpson), Bonnie Armour (Day) & Penny Lopp (Amelia). We got to spend some time reminiscing and laughing. Claudia Williams (Shelor) and Trudy Reiss (Gillette) arrived around 4:00, and then Penny Hobbs (Kilgore) and Mary Hughes (Sturgeon) pulled up the rear by getting in at 5:00. It was so exciting to see everyone. There was some miscommunication though and we had one too many rooms reserved. I ended up sharing that room with Sydney.
Trudy had made dinner reservations at Becca's Restaurant for us at 7:30 so Sydney, Cathy, Penny L., Glenda and I decided to walk. I mean it was on 46th street between 7th & 8th, so we thought it was four blocks away. We walked through Times Square, where the excitement and tension can be felt in the air and got someone to take the picture below.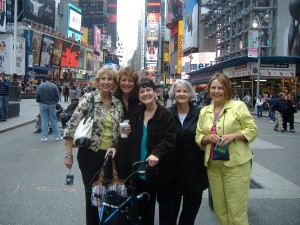 I'm the one with the walker. After walking six blocks and we still weren't there, I decided to take a taxi. The taxi driver told us it was only three more blocks but I was exhausted.  The food was pretty good; I had Pollo al Lemon which was grilled chicken covered in a sauce of lemon and olive oil with slices of Greek olives.
On May 27th we took a tour of the city. We took this picture in the lobby of the hotel before we left. It's Glenda, Trudy, Claudia, Penny H, Sydney, Me, Bonnie, Mary & Penny L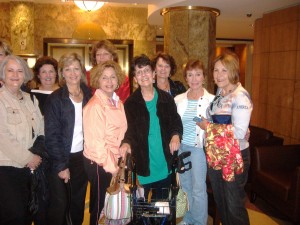 Cathy's cut off standing behind Glenda. We're all laughing because we were having a very intelligent, typical conversation for 60 year old people about constipation before this was taken.
Our tour took us to Central Park but I stayed on the bus; Sydney got a good picture of Strawberry Fields there.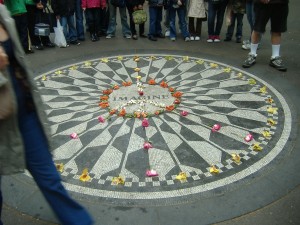 We got to see the building where John Lennon lived, Rockefeller Center and Ground Zero, where the Twin Towers were before September 11th, 01. Went to Pier 17 and did some walking around. Trudy lost her purse and naturally went into a panic. When she retraced where she had been, someone had turned it into a guard, what a blessing. The tour also included a ferry ride out to the Statue of Liberty.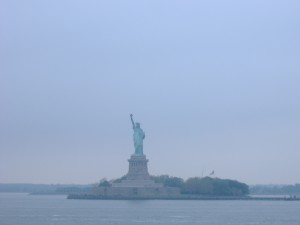 These are some pictures taken by Jim McGowan that he sent me.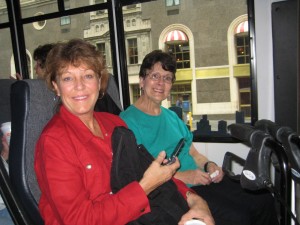 After we got back, it was decided that I should rent a wheelchair and one was delivered.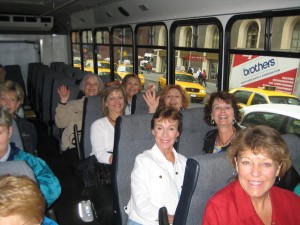 That evening Cathy, Glenda and Penny L went to see the Broadway show 'Mama Mia'. They really enjoyed it. Bonnie, Trudy, Claudia, Mary & Penny H. went to The Above restaurant to eat, Sydney & I had seen the movie Mama Mia & weren't that hungry so we decided to walk back to Times Square. When the girls were walking back from the restaurant they walked through a place where they were making a movie with Nicholas Cage. They told us he was walking around with a long gray wig on and dressed like a wizard.
Sydney & I walked around (I was actually pushed, in the chair) Times Square, enjoying the lights and the excitement in the air. We were also looking for a memory card for my Flip video camera & a restaurant that served Ruben sandwiches; we found neither. We spent some time in this huge Toys R Us that had a really big Ferris wheel and ate at the Hard Rock Café.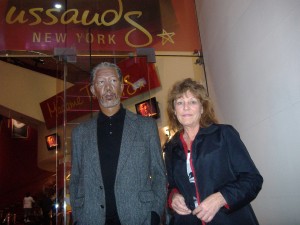 It was getting pretty cold out, so I bought some socks to help warm me up. We got back to the hotel around midnight; poor Sydney was exhausted from pushing me around.
May 28th was one of my favorite days. A lot of the girls were going to Ellis Island, Sydney & I decided to go to Greenwich Village. I was amazed by the atmosphere of the place. There were these wonderful little shops everywhere and when I say little I mean about the size of the average bedroom. The people walking around were very laid back and seemed a little older than the people around Times Square. We both bought a purse made out of old bill boards and some ear rings. Sydney found a shoe store named Toosh and we got a big kick out of the name. She found some shoes she liked there, but they didn't have her size. They called & said the store about three blocks away had them in her size, so we headed that direction and ran across the 'Magnolia Bakery' like in the show 'Sex and the City', so we got some cupcakes & took a picture.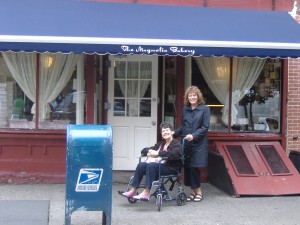 We did lots of walking around trying to find that shoe store and finally gave up, only to accidentally find it later. Syd was so excited; not only did they have the shoes she liked, but it was in her size, 10!
We found this wonderful 'Café on Cornelia Street'; picture below. We had a good lunch but I don't remember what it was…………who cares?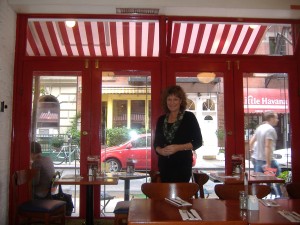 Then trauma hit; the wheelchair broke! I called the number where I rented it & tried to get them to bring us a new one but they said we had to bring it to them. I tried to explain that I couldn't walk unassisted but they told us to grab a taxi. I was furious, but we had no choice, so we did it.
That evening we went to the Broadway play 'Jersey Boys', it was so much fun. After the play we went to a restaurant named Juniors (picture below) and had dessert; you wouldn't believe how big the pieces of cake were, I mean big enough for three people. We then stopped by Macy's on 34th Street, just to say we had. We got back to the hotel around 12:30 and sat around and talked for awhile about what a blessing it is to still be in touch with each other (thanks to e-mail) and enjoy spending time together.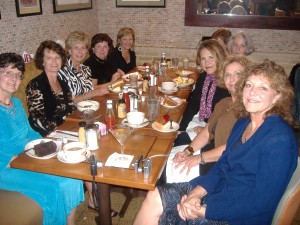 On May 29th we went to Rockefeller Center and did a lot of walking around (me rolling), we found a store called 'American Girl' which really excited everyone with grand daughters. We ate lunch at a place called 'Lobster City', pretty good food. Picture is of Sydney & Glenda, there.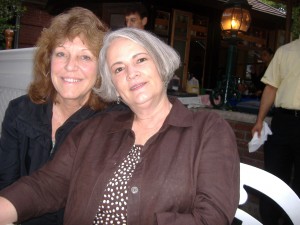 In the afternoon we spent a lot of time at the Museum of Modern Art. We enjoyed it but Glenda and I were pretty disappointed because Monet's 'Water Lilies' and Van Gogh's 'Starry Night' were both on loan to some other museum. I mean "What's up with that? Didn't they realize we were coming?"
That evening we had dinner at Tavern on the Green. The food and ambiance was great, the restaurant was beautiful. Our waiter was terrible; I guess he knew that he was guaranteed a tip, so he didn't bother waiting on us. The only way we got his attention was to send another waiter after him. I bet he doesn't stay employed there very long.
We took a limousine back to the hotel, which was a thrill for me because I'd never been in one and the driver was a marvel. He entertained us with stories the whole way. We got back to the hotel around 10:00 or so and then we gathered in Penny, Cathy & Glenda's room, where we talked and shared pictures along with stories about our families. Finally got to bed around 1:30.
We all left on May 30th. I was the last to leave the hotel, at 1:00. While I was waiting for the shuttle to pick me up I checked out the gift shop in the hotel and found a pink deck of cards that said 'New York Princess', so I bought them even though I still don't know why people were calling Bonnie, Princess.
This was definitely fun; we decided to plan another get together in 5 years. We just have to figure out where to go.