This was my first cruise and I absolutely loved it! A cruise is the most hassle free way to travel you can take. I had some concerns that my handicaps might create problems but Royal Caribbean put my sister and me in one of the handicap rooms on the Grandeur of the Seas ship. The room was plenty large to accommodate my walker. Even the bathroom was large!
When my sister and I got on the ship we were exhausted. We had been up for 37 hours; we figured we might have gotten 2 hours of sleep during our 10 hour flight from Dallas to London. After we unpacked there was a fire drill, then we ate and went back to the room for a nap. I woke first so I jumped in the shower while Becky slept. We then had dinner in the dining room and met our table mates. There's one couple, Steve and Jenny that are from Scotland. Another couple Peter and Susan from New Jersey and a couple of women from Brooklyn NY. (The women were originally from St. Petersburg Russia).  We knew immediately we were going to enjoy our meals with these people, everyone joked around and we laughed continually. After the meal Becky and I went back to our stateroom and made plans for tomorrow.
The next day was a sea day which meant we didn't stop at a port. It was a lot of fun. There was so much going on you wouldn't believe it. After breakfast a lady gave a presentation on the different products available in the various countries. That was interesting but not very exciting; it seemed a little like watching commercials. After lunch we played Bingo and I actually won $30.00. This really amazed me because I never win anything. I always figured my poor winning streak was a plan of God's, he knows I become addicted to anything that makes me feel good.
After lunch we went to a craft class and had a lot of fun with a bunch of women who had so many great stories it was unbelievable. Most of them had been on numerous cruises before and had some great stories about the different countries and the great things to see and do in the different ports of call. They were absolutely fascinating. We made book marks and bracelets in the class, the bookmark is great but the bracelet is a bit dorky.
After a great dinner Becky and I went to the live show 'The Beat Goes On'. It was really good. The dancing and singing were so good I was practically singing and dancing in my seat. It was neat because the performers were people you see working all over the ship. This capped off a very enjoyable and relaxing day.
The next day Becky & I went on a coach tour of Oslo, Norway and got to see this beautiful city. We had a wonderful guide that had to be at least 75 years old, she was very entertaining. We learned the city was settled in 730 AD and in the 1300′s the whole city was almost wiped out by the plague. We drove by the Oslo Cathedral, the Akershus Castle, the Royal Palace and the Hollmenkollen Ski Tower. She also told us about the under ground during the Nazi occupation and explained that Oslo covers 175 square miles but only has a population of 400,000. She was a fascinating woman that proved the value of older workers.
We got back to the ship at 11:30 AM.   I then got a taxi after we got back to the ship and went to the National Gallery by myself to see Edvard Munch's 'The Scream' it was wonderful!  I ended up buying a book of Munch's paintings just so I could get a copy of 'The Day After' it was a great painting that really hit me in the stomach. It's of a woman lying on the bed with booze bottles on the table beside her, I really identified with that painting (I've been there and done that). I then walked back to the ship which was about a mile walking through the city. The taxi
ride to the museum had cost me 95 kronans which was around $14. The interesting thing was that they had a lot of the streets blocked off in the city because there was a concert and show going on out in the middle of the city to raise money for the new opera house. I got to see the concert and stopped in a shop and bought myself, Claire and Gary a troll magnet.
After I got back to the ship I rested for a while and then went to the Library to see if anyone was there for the AA meeting. This time a woman named Fanny, from Venezuela, showed up first. She'd only been sober for 2 months. Then Peter, one of the guys at our dinner table, showed up, and then Uma from Scotland and Peter's wife Susan arrived. We had a really good meeting. After it was over Peter went to take a shower and Susan stayed and talked to me and Fanny. Peter had said something about having cancer and already living 1 year longer then the Drs. said he would during the meeting and they (Peter & Susan) had told all of us at dinner that the 20th is their 10th wedding anniversary. So Susan told me that on the 20th she has arranged for a surprise redoing of their vows and asked if Becky & I would come to the ceremony and tape it. I said sure, we would be glad to help. I told Becky about it & she was as excited about it as I was. We're going to try and get them something special in Sweden.
The next day was another sea day. We had breakfast in bed and just took life extremely easy for the day. We played bingo in the morning but it wasn't near as much fun because I didn't win. After lunch we went to an exhibit and discussion about Faberge eggs. It really got me excited about all of the beautiful things we'll be able to see in St. Petersburg Russia.
After lunch we attended a craft class then sat in on an exhibit and discussion of the crystal we'll be able to see and buy in Stockholm, Sweden.   After dinner Becky and I went to a production called the 'Murder Mystery Theater'. It was so much fun. The announcer was a big funny, he got the audience really involved and then made fun of us. He kept us all in stitches.
This was our fifth enjoyable day. We left at 10:00 on a tour of Stockholm. The tour took us to the city hall which was beautiful, it had a great ball room on the first floor, upstairs there was this huge gold plated room with wonderful mosaic on the walls, I got a video of it. After that we went to Old Town, I got a video of that also, it was really neat but the streets were made from rocks and I almost fell once but one of the guys on our tour caught me. We were going to stay in the area and shop but it started raining cats and dogs and we kept getting lost so we decided to go back to the ship. We ate lunch at 2:00 then came to the room and took showers.
Wednesday was a wonderful day. We started the day off with a city tour of Helsinki. We got to see some beautiful churches. One was a beautiful dark church that was Orthodox which is my daughter-in-law Dany's religion, another was the rock church which was a little strange because it looked like a pile of rocks and another was this beautiful white cathedral with green domes and a million steps going into it, it was Lutheran, the national religion. I got pictures of them all. Churches fascinate me, I feel like I get an honest insight into the psyche of an era when I walk around and experience different historical churches. On the way back to the ship we stopped at the Market square which was attractive, and shopped a little.
Helsinki is a lovely city that I can actually walk around. We saw this strange statue that was
made to celebrate the composer Sibelius but it was just this configuration of pieces of pipe stuck together. The city didn't like the statue so they had the artist create a plaque that was the face of Sibelius to hang near it. Very interesting.
The country of Finland has a female president and a female prime minister. This is my kind of country. You wouldn't believe all of the trees in Helsinki! It is absolutely beautiful, of course my being raised in Kansas where trees are scarce, made this important to me.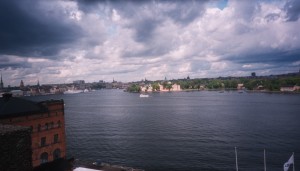 We came back to the ship a little after 1:00, ate lunch then went to the souvenir shops that were across from the ship. At 4:00 there was a cute history of Finland dance presentation on the ship so Becky & I returned for that.
Thursday we finally got to the city I've been so excited about seeing, St. Petersburg! Becky & I, also Peter & Susan went to Peterhoff which is 20 miles outside of St Petersburg. It was Peter the Great's summer home and beautiful! It looked a lot like Versailles. I had to go to the restroom so we left the group & went hunting for it. I finally found it but it was a long way off. There was so much walking Becky & I just roamed around & saw a few fountains and gardens then went to the market area. We both spent too much money but we got some cute things and a few dumb things. When we got back to the bus Peter & Susan were very worried about us, it was cruel of us not to warn them that we were going to take off on our own.
This evening we dressed up and attended a ballet named Giselle. It was pretty interesting but not something I'd want to do again. We got back to the ship about 11:00 and half the people from the ship were trying to get back on. This was another time I was grateful for my handicap, people let us go to the front. One of the things that created problems was the fact that we had to get our passports checked every time we got off or on the ship in Russia.
Friday the 19th was a wonderful but tiring day. We went on an all day tour during which I asked our guide if she would point out where Isadora Duncan lived and performed. She got huffy & said "No we do not like her". This seemed a little strange to me beings Isadora died in 1927. I guess she was still pissed because Isadora married one of the royal princes in the 20's I think, and when she left him he committed suicide. The tour started at the Hermitage which was beautiful! The building, rooms and ceilings were unbelievably beautiful, like the Louvre. The art work was outstanding also, they have so much artwork it would take you years to see it all. We spent most of our time in the Renaissance area then rushed through 1 section of the 3rd floor, which was the Impressionist section. That really upset me because that was the section that interested me!
After that we went to the Hotel Astoria for a magnificent lunch. We learned Hitler had scheduled a great party there for when his army overtook St. Petersburg, but they couldn't over take it so the party never happened.
This afternoon we saw St. Isaac's church, it was beautiful! We also saw the church of Spilled Blood. I am so glad we went on this tour because yesterday we only saw the slums as we drove out of town. Today we got to see a truly wonderful city I would love to visit again.   We were so tired when we got back that we just ate then showered and stayed in the room.
The next was the day for Tallinn, Estonia, such a wonderful city it's unbelievable. Our guide was very knowledgeable and told us the history of the country, it was founded in 1100 and has been
ruled by many countries but the last ruler was the Soviet Union and she also told us about what they went through in1991 when the Soviet Union dissolved. They were so scared, she said their radio and TV was cut off and they hid in their houses afraid to go out in the streets for 4 days. She said it was the longest 4 days in her live because they had no idea when it would end. She
also showed us these towers around the city that were called Kitchen Towers because the guards would look down, while they were on duty, into the chimneys and see what people were cooking. They would then decide where they wanted to go eat.
Tallinn was beautiful, with an area they call 'Old Town' that was so interesting. The only
problem with it was that it was up a hill, but there were some really nice people that helped me. I bought a coffee cup and a ceramic replica of one of the towers.
We came back to the ship about 1:30, ate and then showered etc. We got all fixed up for Peter and Susan's renewal of their vows. It was a surprise to Peter and it turned out beautiful! All of us, including Susan cried a bit. (Gene from our dinner table asked later why Susan had said she knows the next weeks and months will be miraculous, she didn't know about Peter's liver cancer).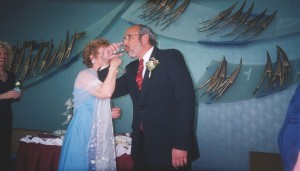 After dinner Becky & I went to the show, it was called 'Rhythm and Rhyme'. It was really good.
The 21st was basically a sea day; we didn't get in to Copenhagen until 7:00. Becky & I didn't get up until 9:00 when they brought our breakfast. Around 10:30 we went up to the 6th deck so I could see if they still had an amber ring set on a cherry wood band that I wanted. They did and I bought it for $45 but I told the salesman to hold onto it while I looked for some earrings. He said OK, and then these two Russian women saw my ring and tried to get him to sell it to them. He told them I was buying it and they kept offering him more money but he kept saying no and they got really rude.
After lunch we looked over the paintings they were going to auction off and I found one I loved. I ended up bidding for it and getting it for $125. (That included the shipping)
.
Sunday we took a coach tour of Copenhagen which was wonderful; it is a beautiful city with these outstanding palaces and churches. It literally amazes me how you can absorb the psychology of a society by visiting its churches and palaces. You can imagine what was important and valuable in their lives. It was a shame though because we weren't able to go into the churches because it was Sunday. I guess people might not have appreciated tourist walking through their church during a service, we can be distracting.
It was really neat; the coach drove us by these lovely cottages with beautiful gardens around them called allotments.  For some strange reason people can only stay in these cottages on weekends and vacations. It would be interesting to research the rational behind this. We also got to see this place called Christiania – it was an area inhabited by hippies from the sixties, it's separate from the city and governs itself.
After the tour Becky & I went back to the ship and relaxed a little before a lovely dinner. After dinner we walked around the interesting area along the port and bought a few things. We went to bed pretty early because we were both pretty tired.
The final full day was a sea day traveling back to Harwich. It was good to just relax, eat and visit with the lovely people we've met on the ship; it was really a blessing to get to know Peter, Susan, Steve, Jean and Oonah. It gave us time to rest up before returning to London. We knew we had so many plans for London and the area we had to rest while we could.
We got back to Harwich on the 24th. We left the ship around 9:00 AM and caught the coach that had been arranged for us. We had a wonderfully entertaining driver that drove us to Victoria
Station. He kept telling us jokes and stories about different areas of London, like the MI 6 building where James Bond works.
We took a taxi (I love taxis in London!) to our hotel, the Quality Hotel Hampstead. It's not a
place I'll stay in again, it didn't have air-conditioning or a shuttle service to the airport. The lack of air-conditioning really wasn't that bad because the evenings were cool and we were out & about during the days.
After settling into our room we caught a bus and went to Harrods. That place is really overwhelming. It is huge, with everything under the sun in it. But those things were outrageously expensive. I just bought a coffee cup to have something from Harrods.
When we left the store we walked around the area for a while, I love the atmosphere of London. We then stopped in this little shop and bought a Coke before we caught the bus back to the hotel. When we got back we walked to one of the restaurants that was near the hotel and ordered dinner. Becky opened her purse to get her billfold and it wasn't there! She had an immediate panic attack, I mean all of her credit cards, three hundred dollars and one hundred pounds were in there.
We went back to the hotel & called Harrods to see if anyone had turned it in. They hadn't. Becky became convinced that a pick pocket had gotten it. She called John a number of times (the reason I say a number of times is because it ended up costing me $35 for each call) to get his advise and have him cancel the credit cards.  We discussed all of the places it possibly could be and then she remembered buying the sodas. She pulled the sack they were in out of the trash and the phone number of the place was on it.  She called the number and they had her billfold. She was so relieved to find out there really are honest people in London.
The following day in London was so much fun. We bought a ticket for a 24 hour bus tour of the city that goes all over London, telling about the history of each area. You're allowed to get off and investigate any place you want then just catch a different bus. It's really a convenient way to see the city at your own pace.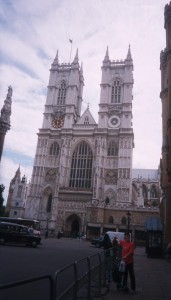 We spent a lot of our time at Westminster Abby. The atmosphere and psychological energy of the Abby fascinates me, there is more than a thousand years of historical events that occurred in and around the Abby and I believe the area vibrates with this energy. The place is absolutely awe inspiring. After a while I had to use the restroom and couldn't find one because a big portion of the church was blocked off for a meeting. We finally decided to go across the way to the 'Methodist Center'. There was the sweetest lady there that helped us find the elevator and restroom; she was so funny with some really entertaining anecdotes about the center.  We decided to eat lunch at the center then went back to Westminster Abby for a while. We got to check out some more of this beautiful, fascinating city on the tour bus which eventually left us off near a place where we caught a river cruise.
The river cruise was wonderful. The Thames is a beautiful, peaceful river that allows you to see a different view of London. After the cruise we headed back to the hotel and grabbed a Domino pizza to eat in the room. We got back around 8:00 and just stayed in and relaxed after eating.
The next day was so much fun. We took a coach tour that went to Warwick Castle, Stratford-upon-Avon, Oxford and the Cotswold. That was one of the greatest tours I've ever been on! Warwick Castle was beautiful and very interesting. But we had the best time in Stratford-upon-Avon. That is one of the most fascinating cities in the world. It's the city where Shakespeare lived. Becky and I did a lot of walking around and talked to a lot of different people. There was also a lot of police around and we had no idea why.  At one point Becky I separated, she wanted to see the whole city and I didn't want to walk that much since I had been to there before. I stayed at Shakespeare's house while she walked around. Well, she found out why there were so many police around. Prince Charles was there to help commemorate the 450 year anniversary of the grammar school that Shakespeare attended. Becky got a picture of him going into the town hall; the school was behind the town hall.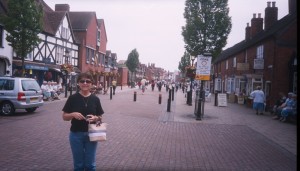 Our next stop was in Oxford, we walked around the 39 collages in the university but I spent most of the time at Christ's Church collage where this wonderful older man gave me a private tour of the building where a lot of the 'Harry Potter' movie scenes were filmed. He carried my walker up numerous staircases. I'll never forget him or the exceptional experience. He even took pictures of me in the hall where they ate in the movie. I thoroughly enjoyed my time with this man, I hope God blesses him.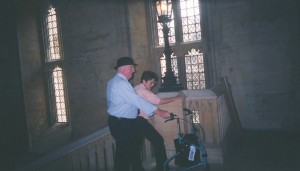 We didn't get back to the hotel until 8:30 because we got caught in 3 traffic jams. Becky was getting so frustrated I thought she was going to explode! Thank God we used the bathroom before we started the trek back to London. It was really a very enjoyable day.
6/27/03 We got up at 5:00 AM and got ready to catch a taxi to Heathrow airport. Everything went quite well until we reached Chicago's O'Hare airport. The airport is huge and they sent a wheelchair to get me (actually a woman pushing a wheelchair). Poor Becky had to get our luggage and put it on a cart with no help from anyone. The cart had un-aligned wheels and Becky looked so pitiful trying to manage it. In the process of pushing it she kept getting further behind us but the woman pushing me wouldn't slow down, she just ignored my pleas for her to get some help, the cart turned over at one point and I started yelling for her to stop and get some help and she finally did. Some people brought a cart that worked right and helped to get the bags on it. We got to the boarding gate 10 minutes before the plain was scheduled to leave. We had to go in 4 different elevators to get to the boarding gate that is why we couldn't take a cart between the gates; it wouldn't fit in the elevators. I will never take a flight where we have to change planes in Chicago again!
We spent the night in Dallas before heading home.