Robert Demian Baum and Kindrea Pully
In anticipation of Demian and Kindrea's wedding, I flew into Denver at 9:50 AM on October 24th and Demian picked me up at the airport. We drove to their house where I got to meet Kelsea, her daughter, and Kindrea's Mom, Karen. Kelsea is 17 and seems like a real sweetheart, she is very vibrant and charming.
Demian hasn't found a job yet but he just quit his previous job and he's only been in Arvada (suburb of Denver) for three days. I still worry, that's a mother's prerogative. He has quite a few prospects so I'm sure he'll be employed pretty early in November.
Joshua Baum, Jacob Baum and their girlfriends, Natalie and Kendra got to the house around 3:00. I hadn't seen Demian's half brothers in more than twenty years and boy have they changed. Of course they were just children when I saw them last. Debby and Jessica (Demian's step Mother and half sister) hadn't made it in yet. Debby was at the airport waiting for Jessica who had multiple flight delays.
My sister, Becky and Mom finally got to Denver around 4:00 PM and were very tired. They had driven in from Herford, TX; 450 miles.  They went directly to the Sleep Inn, where we had reservations, so Becky could rest.
The wedding rehearsal was at 5:00 so Demian took me to the hotel. Becky's arms were hurting from all of the driving so she decided not to go to the rehearsal dinner. Mom and I changed our clothes and Demian picked us up after the rehearsal. We picked up the food for the rehearsal dinner at the Olive Garden on the way back to their house. There were around twenty people at the dinner and everyone seemed to have plenty to eat and enjoyed themselves. I liked meeting Kindrea's friends and family; they seem really nice and fun loving. Mom & I got back to the hotel around 9:00, we were both exhausted.
The wedding on October 25th, took place at Stonebrook Manor in Thornton at 11:30 AM. It was a beautiful setting with lots of charm. Kindrea and Demian both seemed very calm even though the wedding got started a little late. Mom and I sat on the front row next to the isle with Robert and Lisa, Becky sat behind us.
Kindrea walked down a staircase with a white banister on the arm of her father, Dennis. She was dressed in a beautiful pearl covered gown, with a train. Her mother, Karen, met them at the bottom of the stairs and walked with them down the aisle.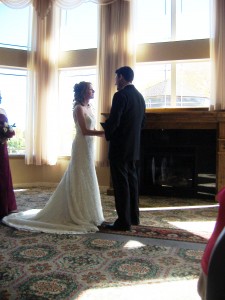 Demian had Joshua and Jacob standing with him when he took Kindrea's hand from her father. They had written their own vows and Becky got it all on video. The ceremony seemed to be very meaningful to them both. It really was beautiful.
After the wedding, a lot of pictures were taken and the furniture moved so that the luncheon and reception could be held in the same room.
I was very impressed to see so many people from Demian's side of the family there; I know it meant a lot to him. After the wedding I got a chance to talk to Art (Robert's brother) and Carmen; I hadn't seen them in 30 years! They both look great.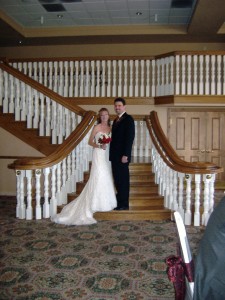 At the luncheon a number of people gave toasts, including Kindrea's father. It was funny because when some people spoke they called them Rob and Kindrea and when others spoke they called them Demian and Kindrea, this caused a lot of laughter. The one that brought tears to my eyes was the one given by Joshua. He said that Demian is a great brother that has been his hero and role model for his entire life and his voice broke up a little while he was talking.
Then the dancing started. Kindrea danced with Demian first, then her father. Next, Demian danced with Mom. It was so cute because Mom was nervous due to the fact that she's never danced before; she did fine. Half way through the song he danced with me.  He calls us his two moms.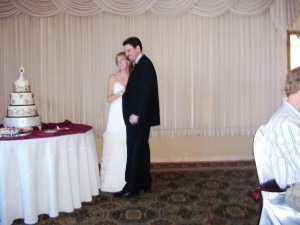 The dance ended at 4:00 and we said our good byes to everyone. I think everyone was pretty tired by the end of the day.
After we got back to the hotel, we arranged to meet Sandy Light and her family for dinner at the Cracker Barrel. That was exciting because it's been twenty or twenty five years since I've seen her. Becky and Mom dropped me off at the airport the next day.