As of May 2016 I have finally visited all 50 US states. I was joined on this endeavor by a friend from Round Rock named Jane Dugan.
We began our adventure at an ungodly hour; Jane picked me up at 4:15 AM because our flight was at 6:00 AM on Friday, May 13th, which was a little frightening. That will teach me to not book a flight on Friday the 13th, but I did get a little rest on the way to California.
We had an hour lay over in San Francisco and landed in Honolulu, Oahu at noon, which was 5:00 PM in Texas. We checked into our hotel, the Marriott Waikiki Beach, and walked around the beach across the street for a while. It was beautiful and serene. We ended up eating an early dinner and going to bed at 8:00 (1:00 AM back home) due to the long day we'd had.
We thought we had the next day all planned. We didn't have to be on Norwegian Cruise Line ship, Pride of America, until 6:00 PM on the 14th, so we slept late and had breakfast in our room. We then walked to the spot, a block from the hotel, where we were supposed to be picked up by the Waikiki Trolley Hop-on, Hop-off Red Line tour. We waited there for 2 hours and it never showed up (it was supposed to be at that spot every 30 minutes), we finally gave up and walked three blocks where we caught a different trolley to the Galleria, then a taxi to the Honolulu Art Museum, we also found out the problem with the Trolley we wanted to take in the first place was caused by a parade that morning. At the museum we got to see some really beautiful Hawaiian art, then enjoyed a delicious meatloaf sandwich there. We took a taxi back to the hotel.
At 3:00 we caught the shuttle from the hotel to the ship. When we got to our cabin (handicapped) we found a notification that there was a problem with the excursions I had paid for. I called the shore excursion desk and was told that two of the ones I had chosen weren't appropriate for the handicapped. I argued with that supposition and they said they'd call the providers. I ended up getting to go on all of them.
We left the island of Oahu that evening and sailed to Maui. Sunday the 15th was pretty much a free day. Jane and I decided to go to the mall in Maui; there were shuttles at the dock going to the mall and we wanted to check out what they had to offer. There were some teenagers on a stage in the middle of the mall doing Hawaiian dances, I got some pictures.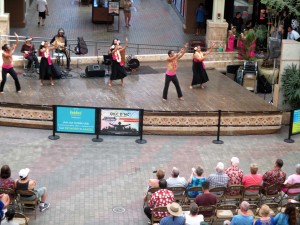 I bought a cute blue flowered mumu and a red and yellow ribbon lei. I looked very Hawaiian in them. We stopped in a diner for a reasonably priced diet coke before heading back to the ship.
We had a great Polynesian dinner on the ship then went to their Polynesian show. I got some pretty good pictures of the show, it was a very flashy one. Jane was braver than me and volunteered to go on stage and attempt to learn the Hula; she did pretty good and had fun. There was a sale of Hawaiian goods afterwards. I bought an artificial flower for Nok's hair, a shirt for me and two kukui nut necklaces; one for me and one for Marlene.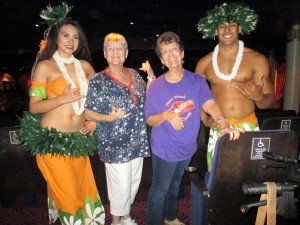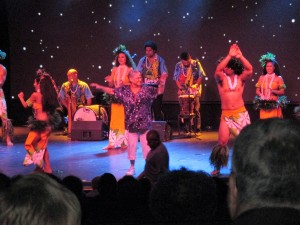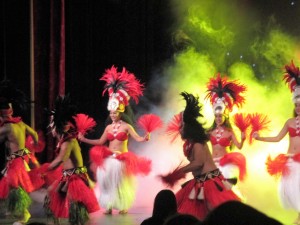 On our second day in Maui I took an excursion to Lahaina. The drive there was beautiful with all the greenery and blooming trees. After looking around, walking a lot and taking pictures I bought a Maui t-shirt, some postcards and some magical eye cream for $150 that they swore would make me look like I'm 30 years old (I was the sucker that was born that day).
I got back to the ship in time for a class at 4:30 to learn how to make a lei out of kukui nuts. I made one for Demian, I hope he likes it.
For dinner I ordered the rack of lamb and it was so tough I couldn't eat it. Jane's steak was too tough also, we both complained. I ended up eating my vegetables and two desserts. I just ordered fish and chicken the rest of the time on the ship.
On Tuesday the 17th we docked on the big island, Hawaii at Hilo. I had an excursion that morning called Flowers and Coffee, it was really fascinating. We visited two nurseries where they grew anthuriums and orchards. We got to see how they grew and preserved those beautiful flowers. I bought some earrings that looked like their flowers.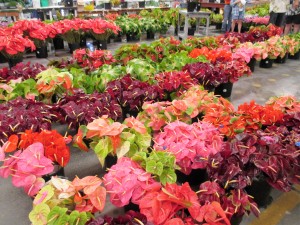 We then went to a coffee plantation where we heard why coffee grown in Hawaii is the best in the world. We got to taste 3 of the Hilo coffees. They were very good and smooth. I bought a ½ pound bag of caramel flavored coffee; it was expensive but I'll enjoy it while it lasts.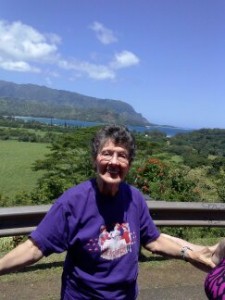 That evening we sat outside on deck and watched the ship leave port. It was a really peaceful experience.
The next day we docked on the other side of the big island at Kona Hawaii. I took a glass bottom boat excursion, it was kind of interesting. We got to see a lot of coral, some colorful fish and an ugly eel.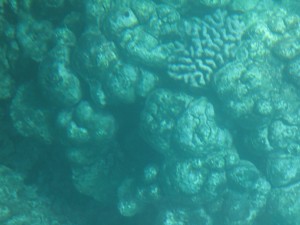 After lunch I took a shuttle to Walmart where I got some more postcards, a Hawaiian shirt for a baby to use in a collage and another Hawaiian shirt for myself. It was much cheaper there than on the ship. Later that afternoon I went a workshop on the ship where they taught us how to make the ribbon leis. I got one started and kept messing up so I quit out of frustration. As I was walking out an employee asked if he could help me. I expressed my frustration and he kindly volunteered to finish it for me, God bless him.
On Thursday the 19th we landed in Kuai. I got up early and had breakfast at the ship buffet. I then went on an excursion called 'Director's Cut'. It was neat to see the beautiful places where so many movies where filmed. The only problem was that he was playing a clip of the movie on the screen in the bus as we drove past the place so we missed seeing one or the other.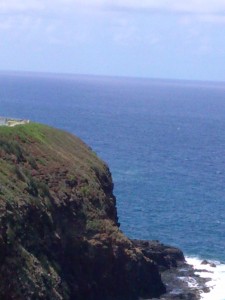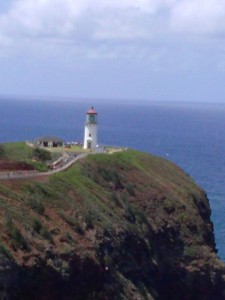 We saw a lot of wild free-range chickens running around. We asked if they were good to eat and he said his Grandma said to put one of those free-range chickens in a pot to boil with a rock. We could then feel free to eat which ever one got tender.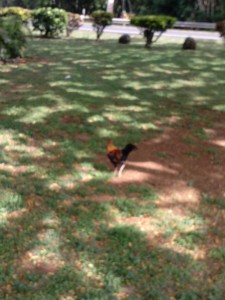 The 20th was a free day in Kuai; Jane and I just relaxed and went for a walk on the pier. At lunch, I spoke with a young lady (probably 28 or 30) and she was so proud of herself because she was afraid of heights but on this cruise she had gone zip-lining and scuba diving. Boy that's the way to face your fears!
We got back to Honolulu on the 21st and caught the shuttle to the airport for our flight back home.
It was a nice trip but I wouldn't recommend the food on the Norwegian Cruise Line. When I got home I was talking to Pete and Diane because they had recently been on a cruise on NCL and they said the food on their cruise wasn't very good either.