I began this adventure on March 17th 2015. I had gotten a hair cut in Austin on Tuesday morning then drove to Irving Texas to meet Becky, she had spent the night there so she could visit Gary Brewer in the hospital. It took me quite a while to get to her hotel, my GPS system kept sending me around in circles. That seems to be the story of my life!
We parked my car at the hotel & went to DFW for our 5:55 PM flight to Madrid. Luckily it was a direct flight which took 9 ½ hours. We lost 6 hours getting there, so it was 9:30 AM on Wednesday when we arrived. Of course it took us a while to get our luggage, then we grabbed a taxi and headed to our hotel, the Gran Melia. The taxi cost $30, but it was worth it. After getting checked in we walked around outside the hotel to find a place to get a sandwich. It was only 45 degrees here and I only brought my light cordaroy coat so I was freezing. Becky had a wool coat, so she walked on further away to see if she could buy me a heavy coat & gloves, she had my credit card. I went back to the hotel and took a nap. She got me a really nice, warm coat. Poor Becky was really tired by the time she got back.
We didn't go anywhere else on Wednesday. We ate dinner here at the hotel, it's really strange, the restaurant didn't open until 8:00.
Thursday was a very interesting but tiring day. We didn't even wake up until after 9:00 and ate breakfast around 10:00. We got a taxi and headed for the Plaza Major. It was really disappointing. We had expected an area of small shops that would be typical of the culture of Spain. What it was, was a big square of cement with a statue of Phillip III on a horse in the middle. There were buildings all around the square that looked like apartments, there weren't any shops, just small restaurants and souvenir places.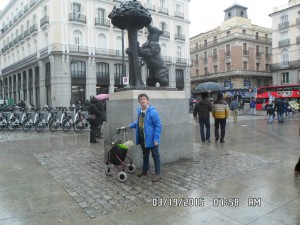 Me with my new coat & a strange look on my face. The time is wrong on picture.
We left there and walked to El Corte Ingles. I bought Demian an apron and myself a shirt. We went to a café there and got a Coke light and a brownie. We then started walking to the Thyssen museum. We got to about a block from the museum and decided we were too tired to go on, it was 5:30 so we hailed a taxi and went back to the hotel, the taxi took us by the Bibliotech building on the way.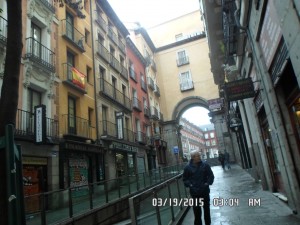 I don't know who this man was, but I thought it was an interesting view of Madrid.
We ate dinner at the Hard Rock café next to the hotel around 7:00. The food was good, but it was so loud, we'll never go back.
We saw a strange building, that was the Barclay-Columbus building, it had an open area with pillars on top and on top of that was a structure that looked like an electrical plug. We looked the building up on the internet when we got back to hotel and found out it's been voted the 6th ugliest building in the world.
Friday was a calm cultured day. We didn't get up until 10:00, we then went downstairs for breakfast. After some eggs, bacon and lots of coffee we took a taxi to the Thyssen Museum, which is an art gallery. We saw some great Impressionist artwork there. I got a picture of a Van Gogh painting. It was a huge place which meant a lot of walking but it was worth it. We ate lunch there; we both got a salmon wrap, which was so bad we couldn't eat it. So we ordered a brownie with ice cream and shared it.
We left the Thyssen and walked to the Prado, which was about a block away. We got a wheelchair there and Becky pushed me around and we saw lots of great Goya's and El Grecco's paintings.
It was pouring rain when we left but we hailed a taxi and didn't get too wet. It was an enjoyable day
We got up Saturday around 7:30, and went downstairs for breakfast. When we got back to the room and tried to turn on my phone, which I had charged all night. It would not turn on no matter what
Becky and I tried, she even looked up ideas on the internet, still nothing. We decided to walk around outside and on the way out I saw a lady with a blue notebook and wondered if she was our tour guide. We decided to walk up to Serrano Street and see if we could buy a new battery, not a single store had one. I'll have to take it to the T-Mobile store when I get home.
We kept waking around until Becky got frustrated, so we stopped at a Tapas bar and ate lunch, food always helps. On the way back to the hotel we saw the lady I had seen earlier and we stopped her and asked if she was Dawn, our tour guide and she said yes.
When we got back to the hotel at 2:00, Becky and I both got a massage. It was weird because they massage your breast too.
We had a get together at 6:00 with our tour group. It seems like it's going to be a fun group. I ate dinner with Cindy, Karen, Doris, Odelia and Patricia.
On Sunday, March 22nd, we had a wake up call scheduled for 6:45 this morning. I woke up at 4:00 & went to the bathroom, then tossed and turned but snoozed till 6:00. Becky & I both got up then. I think we were excited about the actual tour starting.
We went down for breakfast at 7:00 and some of our group was there early too. We got on the bus (coach) and left for the tour of Madrid. Becky & I had seen a lot on our taxi rides, but we didn't know what buildings and places were. We drove by the Preciados, the Cathedral Almundena, & The Palace, We stopped & got out to take pictures of the statue of Don Quiote & Sancho Pansa. We all spent two hours in a tour of the Prado, guided by Maria. Becky & I got a wheel chair again and Becky pushed me, which wasn't too hard on her. We then had 15 minutes to get to the coach and had to go the long, even route which was also up hill. Becky got so winded I was afraid she was going to have a heart attack, but we made it.
The group then left me back at the hotel, some of the people stayed at the Prado. Becky went on the tour group to Segovia, Dawn didn't think I could handle it. I ate a sandwich at the hotel then walked the 3 blocks uphill to the department store El Corte Ingles, where I bought 5 pairs of socks. After getting back to the hotel I took a hot bath to relax my tired muscles. I definately need to walk more when I get home.
Becky got back from the excursion to Segovia around 5:30 and she was exhausted. She told me there was no way I could have done the tour. There were steep hills and steps everywhere. She said that two of the people that use a cane called a taxi to leave early and come back to the hotel.
We walked to Mel's restaurant for dinner. While we were there John called and said Mom had gotten confused ad was having trouble speaking after church, they were at the hospital when he called. It was 6:30 here, so it was 12:30 there. He said her speech was getting better, but they are checking her into the hospital and running some tests. He didn't think we needed to come home now, but he's going to call us when the test results come in.
We left Madrid at 8:00 in the morning when it was raining and 45 degrees, again. The first city wecame to was Toledo. It was very hilly and hard for me to walk on, so Dawn hailed a taxi for me and Marge (she uses a cane). It took us up to the Cathedral of Toledo. Carlos, our guide got me a wheel chair and poor Becky pushed me around in it, which really wore her out after walking up all those hills. The church was beautiful and Carlos was very interesting.
I then took a taxi to the square where everyone was going to eat lunch at McDonalds. But when I got there I learned the toilet was upstairs. I was told the café next door had a toilet downstairs, so Doris, Karen and I went over there to eat.
After lunch we all headed out for Salamanca Spain, which turned out to be an adventure in itself. We drove though the mountains Sierro de Grados and it started snowing. Our bus driver Eugenio did a great job driving in the snow. We then hit a snag and the traffic stopped. There had been an accident up ahead of us. We sat there for an hour at least. A man in a car up ahead of us walked out in the snow, no trees or anything, and pissed.
When we got to Salamanco, 2 hours late, I found out my walker tray was missing; oh shit that really robs me of my independence, but I'm not going to let that ruin the trip!
We got checked into the Palace Hotel and I decided to take a shower beings dinner wasn't until 8:00. It was a weird shower that was very hard to figure out, but I finally got it working right. Then after I was done I couldn't figure out how to turn the water off! I got out and hollered for Becky to see if she could do it. She couldn't figure it out either and got pretty wet trying. I dried off while she ran down to the lobby to get help because she couldn't figure out how to use the phone. She came back with Dawn and a housekeeping lady and they walked in while I was sitting on the toilet trying to get dressed, we all just laughed and said we're all girls and lady turned the water off. She then demonstrated to us dumb Americans how to turn the water off.
We had dinner in the hotel, but it wasn't very good. It was included though, so I guess I can't complain.
The next day we had an interesting morning, we were able to get up at 6:45, which was a blessing, then went down stairs for breakfast. We shared a table with Patricia, Doris, Cindy and Karen which was really enjoyable. Then I went to the restroom and got myself locked in the handicap stall. I stood there in the stall trying to get it unlocked at least 15 minutes. Becky, Doris and Dawn tried to help me to no avail. They got a handyman which didn't help and finally Dawn was able to pull it enough toward her so that I could slide the lever to unlock. It was embarrassing but we ended up having a good laugh; Dawn started singing "Oh dear what can the matter be, oh dear what can the mater be, Gayle's stuck in the lavatory".
We drove into Portugal today, you wouldn't believe how many huge stork nests we saw. We also heard about the cork they have all around here (a harvested parasite that grows on the trees). They make all kinds of things out of the cork here, like purses. I would love to find a stork made out of the cork. As we were driving Dawn told us the Europe thought about changing McDonalds drive through to the anguage of the country until they realized that in Germany it would be McFart.
It's wonderful; we actually saw blue sky today. We drove around and got a look at the city of Porto, then parked the coach near an area with shops and a lot of cafes. It was a little far and uneven to walk, so I stayed at a restaurant not far from the bus parl. It was a very strange place, when I sat down the waiter brought me a glass of water, then some cheese bread, croquets with meat, olives, garlic bread and salad. I had ordered a small shish kabob but by the time I got it I was pretty full. The shish kabob had shrimp, chicken, chicken liver wrapped in bacon, a piece of steak, a rib, a piece of saugage, a piece of banana, onions and green pepper on it. The waiter was so nice, he actually cut the meat off the rib for me, they served grilled pineapple for dessert. I was so stuffed and the whole meal and it only cost 13 Euros. We did a tour of a Graham winery.
We came to our hotel then which is a nice, normal hotel called Crowne Plaza. We're having dinner together at 7:30 tonight. It's so strange, dinner here is around 8:00.
We left Portal the morning of the 25th and stopped at Fatima. It was a much longer trip then I had planned and I ended up peeing my pants, thank God I had a pad on. Lee helped me out of the bus and over the uneven ground to a restroom. I was able to clean myself up pretty good. Lee is really sweet. The group walked a long way to see the holy area. I went to the gift shop and bought a cork owl and cork coasters.
We drove on to Obidos (I think), a walled city. I got some good pictures and walked around a bit but I couldn't get up there so I stayed below and got some lunch. Michel & Noelene joined me. (The mother and daughter from Australia)
We got to Lisbon about 4:30 and got checked into the hotel, the Dom Pedro. Then Becky and I walked over to the shopping center and I left my dirty clothes at a laundry from there we walked to a steak restaurant and ate a really good meal.
We about froze to death walking back and the wind almost knocked me over. Young men helped us twice.
Thursday was a wonderful day. We started off on a tour of Lisbon that was included in the price of the trip at 8:30. The breakfast here at the Dom Pedro was outstanding and different from our other included breakfasts.
The tour was very hurried and Delsie, our guide, spoke swiftly and all the time, so it was kind of droning. We had to cross two streets to get to St. Jerome church that were cobble stone and Delsie just hurried off and left me, with Becky & Michelle. The problem was that we didn't know where we were going. We finally caught up with them and I started yelling at Delsie about what she had done. After that I walked holding on to Becky & Michelle and Bobbie pushed my walker. The tour around inside the church was really good and Becky & I got some nice pictures. Delsie slowed down after my hissy fit.
That tour ended around noon and we went back to the hotel and dropped a few people off, then we continued on with a tour we paid for of Sintra. We had lunch in Cascais on the way to Sintra. We were told that Cascais was named for the shells that were ground into the earth. We had lunch in a chicken café as a group. Becky and I split a meal. We all went our separate ways to check things out. I bought a couple of hot pad tiles with cork bases and a cork post card.
We then headed out for the Sintra mountains. It was really beautiful to see the sea. It was so calm and looked a silver blue. Delsie pointed out a light house a ways out in the sea. She said that it marked where the Duero River ended and the Atlantic Ocean began, interesting. We saw lots 9f umbrella pines as we drove, which I had never heard of. She also pointed out a cell phone tower that had been made to look like a tall tree, what a wonderful way to supply a service without ruining the landscape.
The Sintra mountains were pretty and not very cold. The weather was in the 50's & 60's all day. We did some walking around and shopping in Sintra. I bought a leather painted wallet and a cork card. Then I saw a cork purse that I loved. I went into the shop and looked around. Odelia joined me and I got her to talk to the shop owner for me (she speaks Portuguese). The purse was 58 Euros and I offered him 50. He wouldn't accept that. Then, he started speaking English and told me that he'd take 55 if I had cash. I said OK and pulled my cash out, only to find I only had 45 Euros. He laughed and said he take my credit card and only charge me 55 because I was nice. We got back to the hotel about 5:00. Becky & I came to the room and deposited our purchases in the room. Becky then walked over to the mall and picked up my clean laundry and bought some gifts for her grandsons. She was very tired and sore by the time she got back to the room because she had to carry my heavy clean clothes around the mall with her.
We left Lisbon the next morning at 7:30 to go back to Spain. It was a long drive today but we look a number of breaks. Driving out of Lisbon, Dawn pointed out where the Tigress River blends with the Atlantic Ocean. The blending is called brackish water.
We saw a lot of stork nests and I finally saw a stork walking around on the ground. We also saw some in their nests, but I never got my camera out fast enough to get a picture; Becky did.
I got some good pictures of the Quarcous oak trees where the cork grows. I bought a cork magnet with a picture of people stripping the cork on it.
We stopped for a very quick lunch in La Frontera. We got to Seville around 3:00 and stopped to get a picture of the group in front of a bull fighting ring. The rest of the group then went off on a walking tour of Seville and the bus driver took me to the hotel Ayre. The big luggage was delivered to the room, but not the carry-on bags. I was hoping to at least be able to do some writing while I sat here by myself, but my computer was in my carry-on bag.
I will add this to the complaint I'm going to file about this tour. This evening we are having a dinner at a place that has a Flamingo dancing show.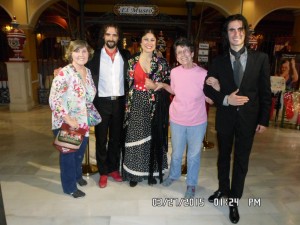 The Flamingo show was outstanding and very dramatic. The dancers were extremely professional. Geoff sat with me and Becky, we all enjoyed the show. We had a pork meal which wasn't bad. We got a picture of our table and I got a couple with some of dancers.
Becky got up early the next day and went on a tour of Cordoba. I stayed here and slept until 7:30 or 8:00 then went downstairs for breakfast. It was total chaos in the breakfast room. This hotelthe Ayre of Seville is not impressing me. Their air conditioning is not on yet, there's no counterspace in the bathroom and the TV has no English shows on TV. It's on Kansas City Ave.
I got a taxi at 9:00 to go to the Cathedral of Seville, it cost 6,41 Euros to get there. It was 9:30 by the time I walked to an entrance and walked around a small area which was pretty but notoutstanding. I found a guard and asked him where Christopher Columbus's tomb was and he told me it was in the main cathedral aound front but it wasn't open for tourist until 11:30 because there is a special mass on the 28th of each month.
I spent the next 2 hours walking around the area and got some exercise, even walking over stone walk way. I stopped in a shop and bought a mosaic flamingo dancer and a picture of a dancer.I got some good pictures of the area too. After stopping for a coke light and a restroom break(Becky had told me the restrooms in the catedral were downstairs) I went back to the cathedral.When I got there I saw there was a line a mile long, but I just walked up near the front and got in line, very brazen, but I was tired and no one complained.
When I got inside I asked where the Columbus tomb was and got directions. The church is huge and beautiful. I got some good pictures as I walked, which wasn't too far. The tomb of Columbas is darkbut very dramatic. I got some good pictures, then an oriental lady asked if she could take a picture picture for me with me in it. She did. I walked around some more and got some more pictures. I was ready to leave but had no idea where an exit was so I stopped in a gift shop and found an employee that spoke English and asked her where to find an exit and a taxi. She said she'd showme because there were steps and I'd need some help. She was so sweet, she had gone to college inthe US. The taxi back to the hotel cost 2 Euros more.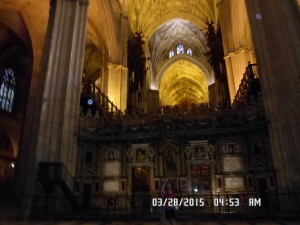 Inside the Cathedral where Columbus tomb is.
I went across the street from the hotel to Burger King for lunch at 1:30, the walked to the electronic store next door to see if they had a battery for my phone, they didn't.
I saw Claudia from our group when I entered the hotel & she asked me to join her for lunch. I just had a coke, but I enjoyed talking to her. She's a retired lawyer from Pasadena.
Becky got back around 3:30. We ate dinner at the hotel.
We left Seville at 8:00 the next morning, which meant we had to get up at 6:30, which is way too early on vacation. I went down for breakfast but Becky didn't because she had taken a laxative. When she came to the bus she was angry because she was having trouble pulling our carry-ons and her new bag full of books etc. She hadn't thought of that when she bought that new bag.
Driving out of Seville, Dawn talked a lot about the Gypsies and Flamingo dancing and their many ways of expressing moods. We really saw that in the show we attended.
We spent close to 4 hours at Gibralter on the 29th. It's owned by the British and it was wonderful to hear English and see things writen in English. We got in two smaller vans and were driven up near the top of the rock, the drive was very scary up the narrow roads, but our Italian guide did a great job. I got some neat pictures of Morrocco, Africa across the bay. Also of Spain on the other side. We ate lunch there at a fish and chips place. I left a little early to walk over to a gift shop and didn't realize I hadn't paid my bill, thank goodness Becky paid it.
I got stuck in a toilet stall that day and when the girl came to help me, she said,"Yes, that one sticks",
why the hell don't they put a note on the stall door?? I tell you, this trip will have to be subtitled 'Traumatic Bathroom Experiences!'.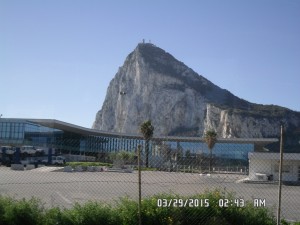 Rock of Gibralter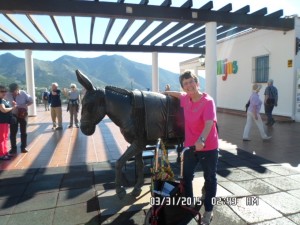 Me at the Rock of Gibralter
As we were driving to Torremolinos, Spain we passed a number of pretty beaches, one was a little starteling because there was a nude man walking around on the beach.
We stayed at the Melia Costa Del Sol, which has balconies over looking the beach, bath tubs and relatively big rooms, but no air conditioning again. At least if we open the balcony door tonight we didn't have to listen to the traffic lights beeping all night.
3-30-15 Monday
Torrmelinos, Spain
We had a free day here. Becky and I slept until 8:00 then went downstairs for breakfast buffet and it was chaotic and loud again with that group of 40 or so school kids there. To avoid that mess, Becky and I are going to buy some pasteries and diet cokes to eat for breakfast tomorrow.
After eating we grabbed a taxi and went to Calle san Miquel which was a couple of streets that were relatively level and had all kinds of little shops that were cute. Becky and I did a lot of walking around and checking out the shops. Becky bought a knife for Collin and a pair if sandels for herself. Her sandels cost 140 Euros. I bought 2 pairs of sandels but mine cost 19 Euros each. She has to get brands that are narrow enough for her feet. I also got a dish towel with a bull on it. Bull fighting is a big deal here.
We ate a lunch of toasted ham and cheese sandwiches while we were there then caught a taxi back to the hotel. It cost 7 Euros each way, which was reasonable.
Our hotel is right on the beach, which is lovely and there are a lot of small cafes along the sidewalk. We're going to one of those for dinner to avoid the noisy kids.
We had a good dinner across from the hotel at a small cafe on the beach. We even got ice cream. But it's happened again, my walker fell apart as we were walking over there. Luckily the guys at reception were able to duck tape it back together after we explained and showed them a picture of duck tape on Becky's phone. It kept folding up as I walked. Now I can't fold it up at all, but at least I can walk.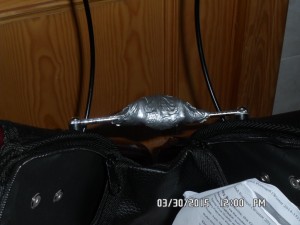 4-1-15 Wednesday, Valencia Spain
This was a very boring day, we spent most of the day driving from Granada to Valencia, Spain. We drove through the Seirra Navada mountains and saw where people Dawn called Trogladite, carved
houses into mountains, likes caves and lived there. Some just had a blanket covering the door, very poor people, but they could keep cool.
Going to Valencia the terrain was totally different, not many trees or grass. Valencia has a wall built by El Cid.
4-2-15 Thursday
Barcelona Spain
We left Velencia at 8:00, there had been a mix up with the wake-up calls, people stressed. On the drive we stopped for a toilet and coffee break in Piniscola for 1 1/2 hours. It was where parts of the movie El Cid was filmed in 1954. I took a picture of the El Cid restaurant while walking around. Becky walked to a tourist information cent and got us some free info on Valencia (where we didn't see much)
The drive was beautiful along the Med. coast. We saw a restored castle that was for Pope Benedict XIII, built by the knights Templar in 1297.
We stopped for another tour of a winery. I sat outside and talked to Bobbie, she's so nice. She helped me over all the rocks to the toilet while we waited an hour. Winery had 3 levels of stairs.
We got to the hotel in Barcelona at 4:00. Becky & I got our bags set up in room. She left at 5:00 to go with Lee & Sandy for dinnner. We love them.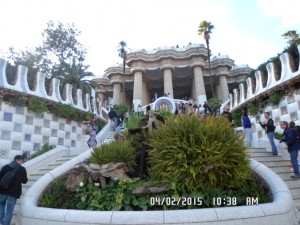 I left at 5:30 for a tour of Guell Park, Dawn had arranged for me a wheelchair. It's a park designed by Gaudi. The place if huge with wonderful structures designed by Gaudi using recycled material, in 1904.
He made structures that resembled nature. I got some wonderful pictures. I think I wore a lot of people out. Dawn, Frank and Cindy pushed me and Terry & Michelle walked me up & down stairs, Michelle wears a brace.
We got back to the hotel at hotel at 10:30, after a terrible dinner of scallops soaked in garlic and oil and potatoes. Becky was still up and we discussed our evenings before I took a whirlpool bath. Got to sleep around 12:00. Poor Becky is getting up at 6:00 tomorrow for an 8:00 excursion, mine isn't until 11:30, so I'll sleep in.
4-3-15
I didn't get up until 8:00 and after breakfast went on a tour of Barcellona at 11:30, Becky was back from her early tour and joined us. We saw a lot of buildings designed by Gaudi. His apartment looks like wavy clouds. The owner of the building was pissed because furniture wouldn't fit squarely. It was interesting to hear what the guide said about the Familia Sangreda Cathedral, which looks like it is smeared with mud and is still under construction.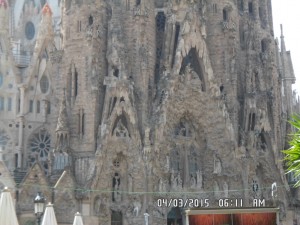 Familia Sangreda Cathedral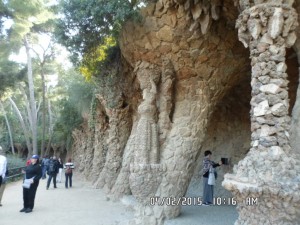 We had our final dinner with the tour group at 6:15. I've really enjoyed the group of people we got to know on this trip. I just wish I had been able to see more.
The bus to the airport left at 7:00 AM on the 4th, when our flight wasn't until 11:45! So Becky and I spent some time walking aroung the airport and checking out shops. We were both anxious to get home so we didn't buy anything, it was a tiring trip.