The summer of 2009 has been extremely hot in central Texas. I live in Pflugerville, which is a suburb just north of Austin. We have had more than 60 days straight of over 100 degree weather, with no rain. This made the coolness of Alaska look extremely inviting.
My sister Becky and I began our cruise on the Diamond Princess in Vancouver British Columbia on August 15th. We had made arrangements to take this cruise because my son Demian was managing a jewelry store in Juneau. But then the luck of the Irish hit and he got offered a better job on the Grand Cayman Islands and he took it.
When we first saw our stateroom we were a little upset because our travel agent hadn't booked us a handicap room. We had them take the big double bed out and replace it with two singles; that made the room a little more accessible. I really think our bad moods had more to do with getting up at 3:30 AM for our flight more than anything else.
Our first day was a sea day and it was pretty relaxing day even though we did a lot. We went to a presentation about other Princess cruises and put a deposit down on the British Isles cruise that Becky, John, Kelli and I are taking next year. Kelli & I will be in a handicap room and Becky & John will be across the hall from us. We also attended a discussion on the different ports of call and saw a display of beautiful Ammolite jewelry.
Our first port of call was Ketchikan on August 17th. It was in the 50's, which seemed awfully cold to us Texas girls, and rained all day. Becky and I just took the free bus into town, so we could explore this neat little city with lots of shops on our own. We thought it was so funny that there was a shuttle into Wal-Mart on the dock, but quite a few people took it. Becky and I were actually looking for some more reasonably priced Ammolite jewelry but we didn't find it. I did find a beautiful set of Australian Opals, a whale's tail necklace, earrings and a ring for $120, so I bought it. We got back to the ship soaking wet. Below is a picture of wet & cold Becky.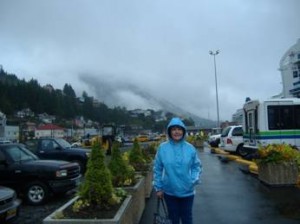 After we got back, Mariah called to tell her mother that she had a miscarriage. Becky was so upset that she wasn't there to help her through it.
The next day we were in the beautiful capital city of Juneau, which only has a population of 3,000, can you imagine a capital city that small? The city is surrounded by mountains full of trees which were pretty but I think I'd get claustrophobia if I lived there. My digital camera broke so I took the crew shuttle into Wal-Mart and bought a new one for $88; the cheapest one on the ship was $350. While I was gone, Becky walked into town and took a look around. I got back to the tram area at 10:15 so Becky & I could take the 10:30 tour of the city.
Our tour guide was very informative and funny. She showed us the Chapel on the Lake, some beautiful scenery and the houses of ill repute that the town wives had moved to the outskirts of town; it was a very entertaining story.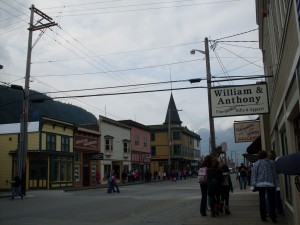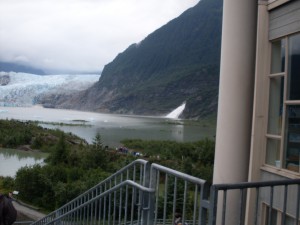 After the tour we stopped by a store called miners cove. I bought a Christmas tree ornament and a pair of Northern Lights Topaz earrings and Becky bought a ring. We got back to the ship around 2:00 and ate some pizza, then went to the high tea, which made us feel very British.
On Wednesday, the 19th, our port of call was Skagway, Alaska. It is a darling city with a population of 800. The buildings are very well maintained and look like they belong in the old west. Becky and I took a shuttle into town and walked around. We found another store that sold the Northern Light Topaz jewelry. Becky's ring had been catching my eye all last night, so I bought myself one. Mine has more purple in it, whereas hers is bluer.
We then got some really good ice cream and headed out to the Jewel Gardens where we wondered around and got some beautiful pictures. It's amazing how they can grow such gorgeous flowers in that cold part of the world.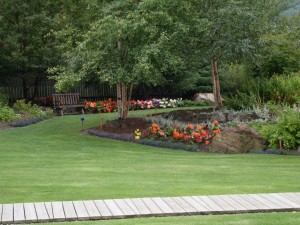 We sailed through Glacier Bay on Thursday. It was interesting to see but it very desolate and bleak looking because it was so cloudy. We met a couple from Lawrence, KS, Lisa and Ray. She writes a humor column for the Lawrence Journal World. Becky and I and our brother David all went to Kansas University in Lawrence, so we enjoyed talking to them. I played bridge in the afternoon and enjoyed that.
Friday, the 21st was another Sea Day; it started off kind of bad because we found out we're disembarking from the ship at 6:15 AM tomorrow! That is just totally unreasonable; it means we have to wake up at 4:30, what a way to end a vacation. We did get to see the Harvard Glacier, which is the second largest glacier in Prince William Sound. It's more than a mile and a half wide and really is impressive to see. Becky got very excited and grabbed her camera and ran out to take a video. It was great to see her get excited and