Flying into Sao Paulo, Brazil was beautiful. The city is surrounded on three sides by mountains with luscious vegetation and not far off on the fourth side is the Atlantic Ocean, The sight was breath taking and I'm glad I got to enjoy that inspiring view on the flight in because the ride in a taxi from the airport to the hotel was frightening!
The taxi was small and relatively comfortable until we got on the highway and had to contend with all of the traffic.  There were motorcycles everywhere and they would just create their own lanes in between the cars and trucks, which I thought was interesting. I wanted to ask about this but the taxi driver didn't speak English. Then my taxi started creating its own lanes, which scared me to death.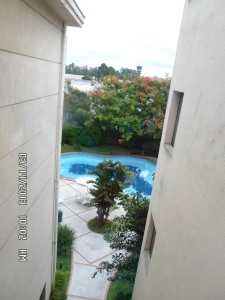 I finally made it to the hotel, and I enquired why the hotel shuttle wasn't at the airport to get me. They apologized and said they'd deduct the cost of the taxi ride from my hotel bill. I thought that was reasonable.
This is the view to the pool at the hotel.
I caught the ship's shuttle to the ship 'Splendor of the Seas' the next morning, March 15th. Driving through the mountains to Santos, Brazil was beautiful & I got some good pictures.
View driving to Santos, Brazil, through beautiful mountains.
View from the ship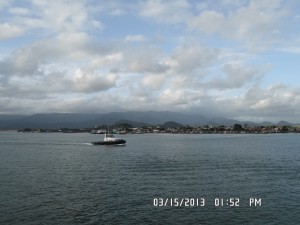 I ran into a really unusual circumstance this time; out of 2,076 passengers, there were only 140 people that spoke English on the ship. This was my 10th cruise and the first time I ran into that situation. Thank goodness the staff spoke multiple languages. I had an assigned dinner table; I like to do that so I can get to know some people. The problem was that everyone at my assigned table spoke Portuguese, so I couldn't talk to anyone. I requested a change to a different table and got to sit with some nice people that I could understand. The 16th was a sea day and the ship hosted a get together for us 140 English speaking odd balls. It was nice to meet new people.
Our first port of call was Punta del Estes, Uruguay. I had a wonderful time here. It's a resort area that is called the St. Tropez of Uruguay. I loved the artistic atmosphere; to start off, we drove along the beach into the city and some really interesting sculptures on the beach, and I got some good pictures of some mermaids and a huge hand coming out of the sand.
We went to the Ralli Museum, which I loved. It had an open area in the middle with black sculptures scattered about but I spent most of my time admiring the sculptures by Salvador Dali.
Ralli Museum
We then went to the home of Carlos Paez Vilaro, a well-known modern artist. It was this huge white manor overlooking the sea. I spent most of my time in the gallery. I was buying a print of one of his paintings when he walked in. I got him to sign the print and got someone to take a picture of us. I'm afraid they cut the top of his head off in the picture, oh well. He's 80 years old.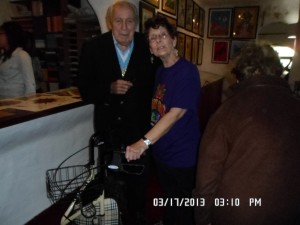 Me with Carlos and below is a picture of his painting hanging on my wall at home.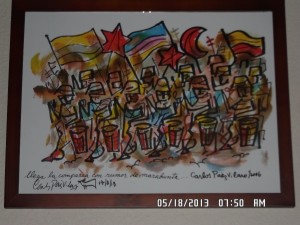 We spent two days in our second port of call, Buenos Aries, Argentina. It was a little hectic the first day because we arrived at 11:00 am and I had a 1:00 excursion, but I made it. It is truly a beautiful city with memorials to Eva Peron in lots of places. I was able to buy some gifts for my son and daughter-in-law there.
The new Pope, Francis, is from Argentina and there were a lot of celebrations going on and traffic snarls. I got a picture of where he used to live and of the Papal flag draped around the Argentinian Memorial.
This was a fun artistic shop. That's a statue of Eva Peron and two men waving.
The most meaningful thing to me was that I met this adorable little old lady that had a cart sitting on the sidewalk doing different types of artwork. I bought one of her paintings and she gave me a magnet she had painted. I had so much fun talking to her, she was a real inspiration.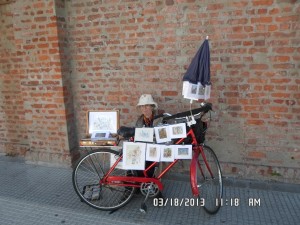 Picture of the lady & the painting after I framed it & hung it on my wall at home.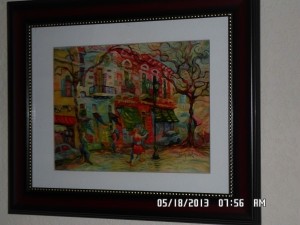 The next port of call was Montevideo, Uruguay. I took an early tour that was a little disappointing. It drove us around the city and pointed out some interesting spots, but we weren't allowed to get off the bus and do any exploring. I got a picture of a neat sculpture in a park of Bruno de Zapala and of a really cute painted house but I missed getting a picture of this area that all of the houses were brightly painted; I did get a magnet with a picture of the area though.
The next day was another sea day as we headed back to Sao Paulo, Brazil. We disembarked from the ship on March 22nd. I took an excursion that took us around the city, included lunch and dropped us off at the airport at 6:30, which worked out really good for me because my flight wasn't until 9:20.
Sao Paulo is a fascinating, colorful city with beautiful blooming trees everywhere. I got some pictures of the trees and also some neat painted fences.